Axl Rose Shows Off Shocking Face During Panned Performance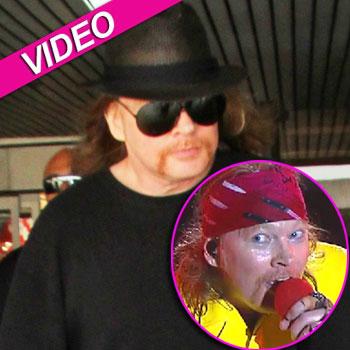 Axl Rose, is that you?
Guns N' Roses hit the stage of the Rock In Rio music festival on Sunday in Brazil, where their legendary musician frontman hit the stage looking shockingly different with a much fuller-face and failed to hit the high note with his fans during his performance. RadarOnline.com has the startling photos and details!
Rose took to the stage in a bright yellow raincoat, a big black hat and sunglasses, hoping to conceal his drastically different look – but it was impossible for his fans not to notice how the rocker had changed.
Article continues below advertisement
"Sadly, the roaring firecracker frontman in Axl Rose is padded with middle-aged pudge, resulting in a great many out-of-breath moments and only token reminders of the soaring post-Slash incarnation that we saw in 2006," explained Johnny Firecloud of the performance on Crave Online.
Ouch!
During his disastrous and painfully long performance with the band that once topped charts around the world, the 49-year-old sounded nothing like he did back in his heyday, failing to hit any of the right notes.
Guns N' Roses kicks off their first North American tour in 5 years on October 28th.
In the meantime, you can watch Axl's painful rendition of Welcome to the Jungle, here on RadarOnline.com.