Jillian Michaels Accuses Mother of 'Literally Killing' Her 122lb, 4-year-Old Son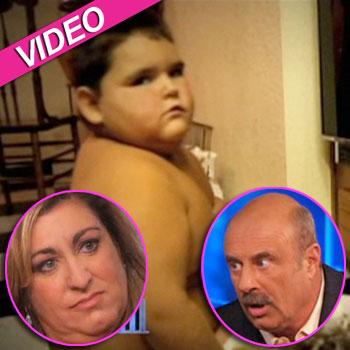 Dr. Phil and Biggest Loser star Jillian Michaels teamed-up to tackle the rising epidemic of obesity in children for a shocking show that aired Friday.
The Oprah alum executed his trademark tough love approach, attacking parents for their part in the problem, and in a video clip, obtained by RadarOnline.com, Jillian rips into a parent whose 4-year-old son already weighs 122 pounds.
The concerned mother claimed to feed her son a strict diet of health food, but Jillian got to the heart of the matter. "What do you feel when you feed your son," she asked, but the mother replied blankly: "I don't know."
Article continues below advertisement
"Do you want to help this kid?" Jillian fumed. "You have a 4-year-old you are literally killing and I don't find it cute and I don't find it funny to the point I wish I could call Child Protective Services."
Meanwhile, Dr. Phil had a few choice words for another hapless mother, who put her daughter on a celery diet.
"I don't think I have the vocabulary to tell you how wrong your thinking is," he reprimanded her. "You could not be programming your daughter more for an eating disorder if you had a how to manual."
One guest, Jerri, admitted that her 14-year-old son Alex had hit 555 pounds before he was finally taken away from her by Child Protective Services. She later kidnapped him back and was arrested.
"How did your son get so big?" Dr. Phil demanded.
Jerri had no answer, going on to explain that she took Alex to see a doctor when his weight hit 250, but they were of no help.
Alex has lived with a relative for the past two years and has lost 200 pounds. Dr. Phil rewarded his efforts with a free gym membership and personal trainer at Any Time Fitness, and daily health food delivery from Bistro MD.
Article continues below advertisement