Overweight Mom Admits to Feeding Sons To Death, Has Fattened Them Up To 800 Pounds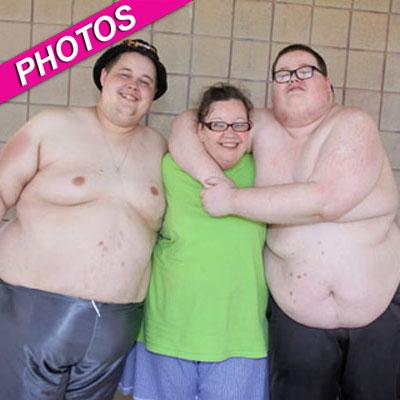 An obese mom has taken nurturing her children to extremes by fattening them up with comfort food, RadarOnline.com has learned.
Larger than life mom, Cynthia Williams has admitted to feeding her sons to death after letting them gorge on a diet of pizza, doughnuts and fried chicken, and refuses to stop even though doctors have warned that she is signing their death warrant in grease.
Her bouncing boys, Joseph, 26, and Matthew, 18, now weigh a whopping 800 pounds combined, but their mom still keeps plying them with high-calorie food.
Article continues below advertisement
'I know it's my fault they're fat, and that the fatty food is killing them, but I can't stop. I'm feeding my boys to death," confessed Williams, who at 5'2" once hit the scales at 336 pounds.
After suffering from diabetes, high blood pressure and high cholesterol, the 48-year-old had gastric bypass surgery and shed 56 pounds, but unfortunately as Cynthia got slimmer, her sons got fatter.
"As my weight plummeted and theirs soared - I felt awful," said Williams.
"I tried to buy healthy food for all of us. I wanted the boys to lose weight like I had, only naturally. But it's hard for them being at home all the time."
The real life Tweedledum and Tweedledee are so fat that they can't hold down a job between them, have no social life - and definitely aren't dating!
"They are too overweight to work, exercise or socialize. The only thing I can offer them to make them happy is more food," said their mother.
Article continues below advertisement
A typical day's diet for the chunky brothers includes cream-filled doughnuts, fried chicken, ice cream, cheese burgers, fries, chips and cookies, all washed down with soda.
Their mother blames an unhappy marriage on her force-feeding her brood.
"I felt bad for the boys growing up in such an upsetting environment, so when I left my husband I was determined to give them everything they wanted to make them happy," she explained.
"So I allowed them to have sweet treats and regularly took them on trips to McDonald's.
"But despite making them happy in the short term they piled on weight which actually ended up making them miserable."
Her obese sons admit that they are unhappy - but food is now their only joy in life.
"I don't blame my mom, and I'm really glad she has lost a lot of weight, but I hate being so fat. I just can't stop eating, even though it's killing me," said Matthew, 18.