Exclusive
'World's Heaviest Mother' On A Diet After 'Feeder' Fiancé Dumps Her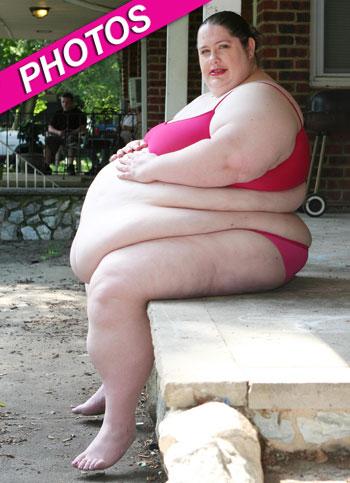 By Amber Goodhand - RadarOnline.com Reporter
Donna Simpson holds the Guiness World Record for 'World's Heaviest Mother,' but RadarOnline.com has learned she wants to ditch the title and lose the weight.
Simpson, an Ohio native, made a hefty living (no pun intended!) of $90,000 per year off a website in which fans paid a monthly fee to watch her consume more than 15,000 calories a day -- but after being dumped by her chubby chaser fiancé, whom she has labeled a "feeder" she's decided to start dieting.
Article continues below advertisement
At 600 pounds, Simpson broke the news to her fans that her website will be replaced with a weight loss blog.
"I ask that you take your last look at the old Donna," she wrote. "I recently split with my fiancé of five years and moved with my two children back to my home town in Ohio.
"It's fine to gain weight when you have a partner who will help feed you and take care of everything around you."
Simpson has two children, Jacqueline and Devin, and feels it shouldn't be their responsibility to take care of her.
"Now that I have sole responsibility of taking care of my children, I must drastically change my lifesyle," Simpson wrote.
"I realize this statement will be met with mixed emotions. The people that admired me as a 'super-sized big beautiful web model' probably will be disappointed in this decision."
Simpson met her former fiancé, Philippe Gouamba, on a dating website for plus-sized people and he was a self-described "belly man" who loved her "curves and rolls of fat."
Article continues below advertisement
But now that the two have split, the 5'2" mother admits she needs help "getting dressed or having a bath" so along with moving from New Jersey back to Ohio, she's cutting the calories.
Simpson has a target weight of 370 pounds, and has already lost 60. However, that could all change — Simpson says she would stop dieting if she did happen to meet another "feeder" to look after her.
RELATED STORIES:
Giuliana Rancic Stands Her Ground In LeAnn Rimes Weight Controversy