Exclusive
Pot, Meet Kettle: LeAnn Rimes Upset Over Giuliana Rancic Weight Comments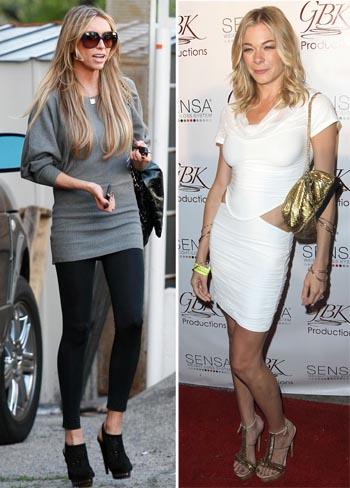 Giuliana Rancic and LeAnn Rimes might be headed for a showdown -- and there won't need to be a weigh-in for this one!
The heat stems from Rancic's recent comments about Rimes' slight physique, after the 35-year-old E! host told The Huffington Post she thinks the bikini-loving singer needs to put some meat on her bones.
"She lost a lot of weight from all the stress in her life," Rancic told the website. "She seems a little thin right now and I think she looks great when she's a bit curvier."
Article continues below advertisement
Rimes was none too happy, calling out Rancic on Twitter quicker than you can say "Brandi Glanville."
She wrote, "@GiulianaRancic hey, we should go to dinner sometime. You get criticized all the time for how small you are. You can see just HOW much I eat and maybe put a stop to this crazy 'shrinking' once and for all.
"Then we should workout together! Good luck with your restaurant!!!!"
When one of Rimes' followers asked the singer to clarify her comments, Rimes softened her stance, tweeting: "I just don't appreciate her comments, so I really would love for her to hang with me, see who I am.