World's Heaviest Woman Says Men Think She Is A 'Sex Goddess'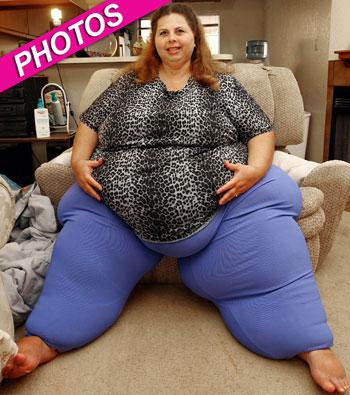 By Alexis Tereszcuk - RadarOnline.com Senior Reporter
A 700-pound woman has won the honor of being the Guinness Book of Records Heaviest Woman and she believes men think she is a "sex goddess" and RadarOnline.com has the newest photos of the winner.
Pauline Potter, 47, lives in Sacramento, Calif. and is so heavy that she must use a scooter to get around and said she can't even put on her own socks, but she says she's still sexy.
Article continues below advertisement
She said that men think she is a "sex goddess" and has "fantastic sex every day," but she can't do anything for herself, according to Opposingviews.com.
"Everything is difficult from getting dressed to taking a bath. I can't put my own socks on. As far as my daily activity I do, everything is very difficult and thank goodness I have a very good relationship with my son and he is very helpful. He helps me do anything that's difficult," Potter said.
She wanted to warn the other women competing for the title that they needed to lose weight so they don't end up like her.
As RadarOnline.com previously reported, the World's Heaviest Mom Donna Simpson, who tips the scales at over 530 pounds, now has competition for the title.
The mother-of-two from Akron, Ohio holds the Guinness Book of World Records spot for being the biggest female to bear children and a 32-year-old from Arizona was threatening to steal her heavyweight thunder.
Article continues below advertisement
Susanne Eman currently weighs in at a staggering 728 pounds and is hoping to beat the current record for Heaviest Woman Ever by reaching 1,200 pounds by the time she reaches 41.
Meanwhile, Pauline Potter said she regrets getting as big as she did. "I don't even know how to say, it's not fun, and it's not fun at all. There is no physical freedom."
RELATED STORIES: