Exclusive
Taylor Armstrong Denied Motion For $1.5M Lawsuit To Be Dismissed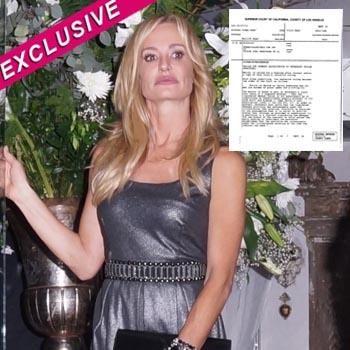 Taylor Armstrong recently attempted to get a $1.5 million lawsuit against her dismissed, but RadarOnline.com has exclusively learned the judge denied her motion.
The Real Housewives of Beverly Hills star and her late husband, Russell Armstrong, were slapped with a lawsuit by MyMedicalRecords.com in which they claimed a breach of contract, stating that the Armstrongs scammed money to "live a lavish lifestyle."
Article continues below advertisement
COURT DOCUMENTS: See Taylor Armstong's Denial For A Dismissal In $1.5M Lawsuit
In court documents filed in Los Angeles on April 27 and obtained by RadarOnline.com, Judge Frederick Shaller stated that the motion for dismissal was denied because Taylor "has not met its burden of proof.
"All the circumstances existing at the time of the making of the contract are considered, including the relationship that the damages proved in the contract bear to the range of harm that reasonably could be anticipated at the time of the making of the contract."
MMR is not required to prove the actual damages incurred to claim their $1.5 million and trigger the clause.
"The clause was triggered 'in the event that any one or more of the Armstrong Entities REPS are false,'" the document states, and MMR claims the Armstrongs breached the agreement by failing to identify three individuals' names.
As RadarOnline.com exclusively reported, sources close to Taylor revealed she was having an affair with the married attorney handling this case for her, pro bono.