Exclusive
Real Housewives of Beverly Hills Cast Members Miffed At Lisa Vanderpump's 'Diva Behavior'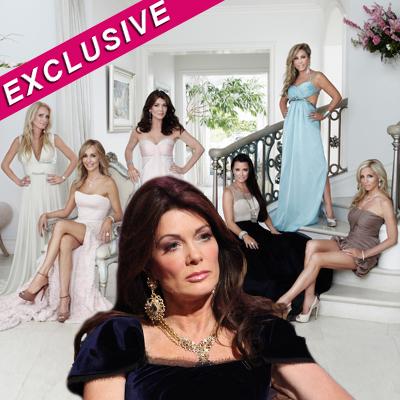 Article continues below advertisement
"There are a lot of bad feelings because Lisa got her own show and Taylor for one thinks that Lisa has been acting like a diva during filming. Taylor and Lisa had gotten close after Russell's suicide last year, but Taylor now feels like that was all done for the cameras," a show insider tells RadarOnline.com.
"The Housewives are jealous that Lisa got so much attention at the recent up fronts in New York City. Lisa does have one very vocal supporter among the cast though, Brandi Glanville. Brandi thinks it's fantastic that Lisa got her own show and of course, she wants to appear on that show as well.
"Lisa is acting like she deserves to have her own show and that the other ladies should be grateful that she agreed to appear on this current season of Housewives. The only reason Lisa agreed to come back for the third season was because she was getting her own show on Bravo and it was part of the contract deal she signed. Lisa is a very smart businesswoman and she dismisses the other ladies feelings because she believes they are jealous. Lisa didn't get to where she is in life without ruffling feathers."
Article continues below advertisement
"Lisa is always trying to make the women take her side in any situation and divide them up and make them fight against each other. She's been so nasty that the other women are furious that she seems to think that she's the biggest star in the show," a second source told RadarOnline.com.
As we previously reported old feuds between the ladies are brewing and the bad blood left over from season two is still causing drama in the 90210.
With most of the original ladies returning for season three the sparks are going to fly and factoring in the addition of the new housewife is just going to add to the drama.
"There is definitely going to be tension between Yolanda Hadid, David Foster's wife, and Lisa Vanderpump over some past legal wrangles that have gone on," a source previously told RadarOnline.com.
The new season of The Real Housewives of Beverly Hills is scheduled to air on Bravo this fall.