Exclusive
Taylor Armstrong: 'I'm Not An Alcoholic, I'm A Great Mother!'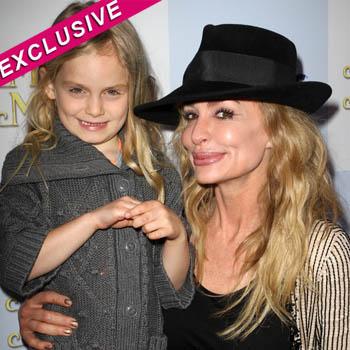 By Jen Heger - Radar Assistant Managing Editor
Despite growing concern from those close to her and increasingly erratic and destructive behavior, Taylor Armstrong continues to deny she is an alcoholic, bizarrely citing the fact that she is a great mother to her daughter Kennedy as evidence, RadarOnline.com is exclusively reporting.
During a recent trip to Ojai, Calif., Taylor had a "catastrophic meltdown" which left her fellow Real Housewives fearing for her future if she doesn't seek treatment for her drinking. Multiple sources tell RadarOnline.com that Taylor's behavior, which was all caught on camera, was out-of-control and frightening to witnesses and was fueled by the amount of alcohol she drank during the trip.
Article continues below advertisement
"Taylor insists that she definitely doesn't have a drinking problem," a production source tells RadarOnline.com. "Taylor is steadfast that she doesn't abuse alcohol and that her focus is being the best mother possible to her daughter. She doesn't like the meddling that the other Housewives are causing in her life right now. She says the only reason that she drinks is to relax and unwind a bit at the end of the day, and that she never drinks before 6 p.m. and usually will only have a drink or two after Kennedy has gone to sleep."
However, as RadarOnline.com previously reported, Taylor did get extremely intoxicated at Kyle Richards' daughter's fourth birthday party several weeks ago, and Kennedy was there to witness it.
"Taylor got wasted at Portia's birthday party, and Kennedy was there, so if Taylor doesn't think her daughter doesn't know what is going on she truly is in denial. No, Taylor doesn't ever drink and drive and she did have a driver that night, but that doesn't mean there is any less cause for concern," the source says.