Exclusive
Housewives Will Confront Taylor Armstrong This Week About Her Drinking Problem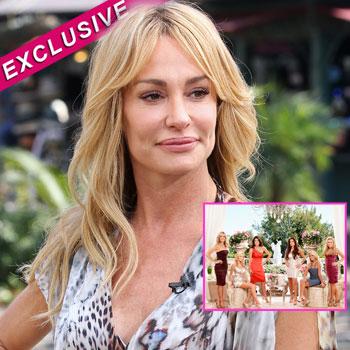 Article continues below advertisement
"The entire cast will be filming together this week and the plan is for the ladies to confront Taylor about her growing dependence on alcohol," a Bravo insider tells RadarOnline.com. "It will be the first time that the cast will be together since Portia's birthday party when Taylor got obscenely drunk. It was very alarming and distressing for Kyle, Kim, and the other ladies to see. It struck a chord in particular with Kim who was recently released from rehab, and she is extremely concerned for Taylor, everyone is. The cameras will be rolling when the ladies express their concern for Taylor's drinking, the latest incident with her getting drunk at a little girl's birthday party was the last straw, especially because Taylor's daughter, Kennedy was also at the party and saw her mother in that state."
Could this be the beginning of the end for Taylor on the show? Our network sources tell us "this is absolutely going to be the platform for Taylor to leave the show because of her dependence on alcohol. Bravo can't go through another round of negative publicity like they endured when Russell Armstrong committed suicide last summer."
Taylor is hitting the bottle even harder as she faces an uncertain financial future after learning that Bravo is planning on phasing her out of the show after the current season. "Producers don't feel she's particularly a sympathetic character and that she lost a lot of people's respect by bringing out a book about the physical abuse she suffered at the hands of her late husband Russell Armstrong following his death, and that she basically cashed in on his suicide," a source previously told RadarOnline.com.
Article continues below advertisement
Russell committed suicide last August amidst serious financial troubles and relationship woes. Russell's death came just weeks after Taylor filed for divorce from her husband of six years.
Taylor subsequently released a memoir titled, Hiding from Reality: My Story of Love, Loss, and Finding the Courage Within, accusing Russell of shocking physical and verbal abuse throughout their relationship.
RELATED STORIES: