Brandi Glanville: 'I Really Thought I Was Going To Kill' LeAnn Rimes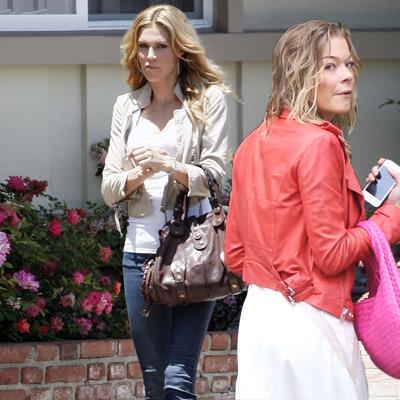 WARNING: This Story Contains Explicit Content
Real Housewives of Beverly Hills star Brandi Glanville doesn't hold anything back in an explosive new Q&A with Australia's NW HQ magazine, including a bombshell revelation that she once felt like killing ex-husband Eddie Cibrian's new wife LeAnn Rimes after the country singer surfaced at one of her son's soccer practices.
"I remember walking up to soccer practice and there she was with my baby in her lap," Brandi -- who has two sons with Eddie, Mason and Jake -- told the magazine. "My blood was boiling, and I thought I was going to kill her. I really thought I was going to physically hurt her.
Article continues below advertisement
"But that was the first time I saw her that way -- she was sitting in my soccer chair, under my tent, she's got my kid on her lap and she's with my husband, and that was that little moment of total irrational fury."
Brandi, 39, says tempers have cooled off on that front.
"We're never going to be best friends, but she's good to my kids, they love her and that's all I could ask for," Brandi said. "If they didn't like her, I'd be in court right now, fighting. It's not about me -- it's about them."
In regards to recent rumblings that Eddie and LeAnn have been heavy-handed in allowing the boys to appear on Real Housewives with their mom, Brandi says it's "incredibly hypocritical for Eddie to object to filming around my children, especially given how public he lives his life."
PHOTO: LeAnn Rimes & Brandi Glanville -- BFFs?
In the telling chat, Brandi says she's glad to hear rumors Eddie and LeAnn didn't sign a prenuptial agreement, as she's happy her sons will have financial security regardless of if their TV actor dad makes it last with the country singer.
Article continues below advertisement
"Thank God they don't have a pre-nup! My kids' futures will be taken care of if that's true," Brandi said, adding she and Eddie had no agreement either upon tying the knot, which left her regretting that decision when the marriage imploded.
"I got f**ked," she said. "And not in a good way."
In a saucy send-off, the hardbodied beauty admitted that while she's made love to women, she ultimately prefers the company of a man.