Life's Just Beachy For LeAnn Rimes And Eddie Cibrian!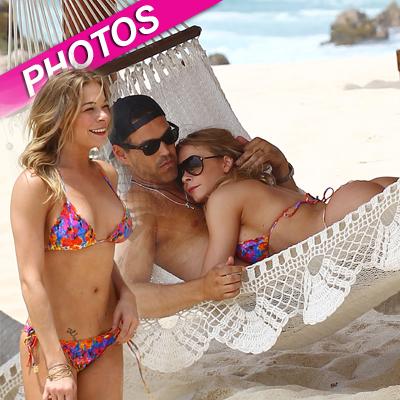 Oh to be LeAnn Rimes and Eddie Cibrian!
After renewing their vows last week, the super hot couple got to relax in their favorite holiday spot, Cabo San Lucas, for that all-important second honeymoon.
This gave 30-year-old LeAnn the perfect excuse to parade her super-slim body in a series of bikinis, and of course, to remind the world that she's bagged handsome Eddie… TWICE!
Wearing a brightly colored floral bikini, the How Do I Live singer straddled the 38-year-old lead of the axed Playboy Club in a hammock, looking all the more diminutive next to his defined muscles.
Article continues below advertisement
LeAnn then managed to tear herself away from her husband to slip into an apple green two-piece, and wandered up and down the idyllic beach with a retro-style camera.
The couple has been married for a year, their wedding anniversary was on April 22, but they decided to extend the celebrations for a week.
PHOTO: LeAnn Rimes & Brandi Glanville -- BFFs?
On Saturday LeAnn tweeted: "Renewed our vows today....it's incredible to thank each other for the past year as husband and wife. Here's to another great year!