'Evil Stepmother' LeAnn Rimes Shares Blog About Dealing With That 'Nasty Ex-Wife'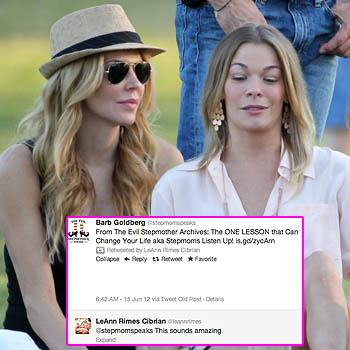 Article continues below advertisement
"This sounds amazing," she responded to Barb Goldberg, after retweeting the bloggers post titled "The One Lesson that Can Change Your Life aka Stepmoms Listen Up!"
"There are no rules and no limits to what you can create, unless you impose limits on yourself. Yes, you can change your relationship with that ornery stepchild or that nasty ex-wife. You just need to understand the core principles of how the universe works and the communication techniques to get you there," a passage in the blog reads.
LeAnn, who has been at odds with Cibrian's ex-wife, since their shocking affair broke up his marriage, reached out to Glanville on Twitter Wednesday, sharing a photo of her stepson dressed in a Hawaiian getup.
"Had to share his luau fabulousness!!!! Mom and he are gonna rock out today. @brandiglanville have Fun!," she Tweeted.
The Real Housewife finally responded on Friday morning: "@leannerimes just seeing the luau tweet, been crazed, thanks we had a blast."