Bizarre Love Triangles! Sexy Stars Involved In Cheating Scandals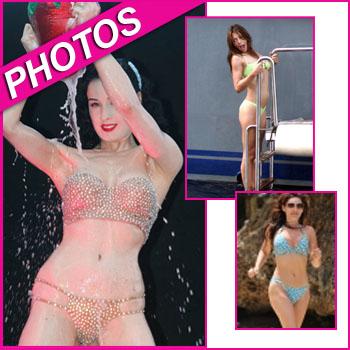 Article continues below advertisement
From country cutie to scandalous mistress! LeAnn Rimes was considered one the most innocent singers on the stage, marrying her sweetheart, Dean Sheremet, at a young age and keeping her reputation squeaky clean, until her shocking sex scandal tarnished her image forever. Caught red handed in an affair with actor Eddie Cibrian, who was married with kids to Brandi Glanville at the time, the duo soon left their respective lovers and are living happily ever after.
The Brad Pitt, Jennifer Aniston and Angelina Jolie love triangle will go down in Hollywood history. After photographs surfaced of Brad getting a little too close to Angelina on the set of Mr. & Mrs. Smith, rumors of an affair circled ferociously around Hollywood and they only intensified when Brad and Jen separated shortly thereafter and the hunk was soon by Angie's side in Africa. Although Brangelina still deny the rumors to this day that any hanky panky was going on while Brad was still married, Jen has insinuated many times to the contrary.
Article continues below advertisement
Who cheats on America's sweetheart!? It seems like just yesterday that Sandra Bullock was gushing about her reformed bad boy hubby Jesse James from the stage of the 2012 Academy Awards. The couple, who had been married about five years and had secretly adopted a child together seemed to be crazy in love, so when the bombshell dropped that Sandra wasn't Jesse's only girl, everyone, including Sandra herself, was shocked.
Sienna Miller is no stranger to sex scandals! After getting cheated on with the nanny by fiance Jude Law, the hot bodied bombshell went on to become a mistress, taking up with married actor Balthazar Getty.
Which other sexy stars have cheated or been cheated on? Find out by clicking here.