Jennifer Aniston Denies Feud With Angelina Jolie, 'It's A Story Headline That Won't Go Away'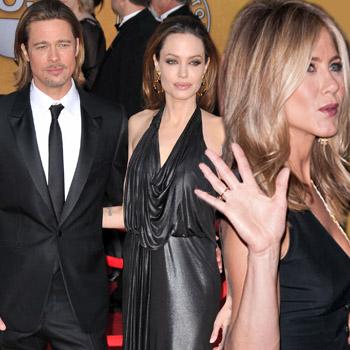 Jennifer Aniston has no problem with Angelina Jolie, and she wants the world to know it!
In a new sit down with InStyle magazine, the ex-Mrs. Brad Pitt opens up about what she sees as the biggest misconception of her in the press, her love life and being forty something in Hollywood -- and RadarOnline.com has a run down of her interview.
"The triangle with my ex-husband – and that there's a feud there," Jen says when asked what is the main thing the press get wrong. "It's constant. It's a story headline that won't go away, but it's a money thing."
Article continues below advertisement
The 42-year-old, who turns 43 on February 11, also opens up about aging in Hollywood: "You know what makes me feel old? When I see girls who are 20-something, or the new crop of actresses, and think, Aren't we kind of the same age? I don't feel my age. I feel young every day."
Jen also took some time to gush about her current relationship, with her Wanderlust co-star Justin Theroux.
"Having experienced everything you don't want in a partner over time, it starts to narrow down to what you actually do want," she says. "As I get older I realize what qualities are important in love and what suits me. And what I won't settle for."
MORE ON:
hollywood happenings
And whatever you do, don't accuse her of stealing his style! "First of all, he has great style—it's very specific, and it has been his style forever. Has it influenced mine? No, but I know people say it has. 'Oh, look, you're dressing alike.' And I think, No I'm not. I've had this jacket for three years!"
For more of the exclusive interview with Jennifer Aniston, pick up the March issue of InStyle -- on newsstands Friday.