Exclusive
Kristen Stewart Apologizes To Robert Pattinson, Doesn't Mention Director's Wife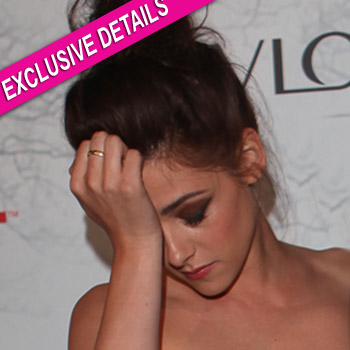 By David Perel - Executive Vice President/Managing Editor RadarOnline.com
After getting caught in a raunchy clinch with a married man, Kristen Stewart issued a public apology to Robert Pattinson on Wednesday where she called the illicit affair a "momentary indiscretion," but didn't say sorry to the woman whose family she shattered.
"I'm deeply sorry for the hurt and embarrassment I've caused to those close to me and everyone this has affected. This momentary indiscretion has jeopardized the most important thing in my life, the person I love and respect the most, Rob. I love him, I love him, I'm so sorry," Stewart said in a statement.
Article continues below advertisement
The damage control comments come in light of a published report that claims the 22-year-old actress and 41-year-old Snow White and the Huntsman director Rupert Sanders could hardly keep their hands off one another as they traveled around Los Angeles together on July 17, and a series of photos confirms the affair, showing them in a number of romantic embraces -- or compromising positions, depending on how you look at it.
While Stewart apologized to her Twilight boyfriend of three years, there was no mention of Sanders' wife, Liberty Ross, with whom the director has two children. The 33-year-old stunning brunette reportedly went on a Twitter rant when she was blindsided with the bad news, before closing her account with a succinct, "WOW."
Following Kristen's statement, Sanders issued a similar apology of his own in which he told People: "I am utterly distraught about the pain I have caused my family.
Article continues below advertisement
"My beautiful wife and heavenly children are all I have in this world. I love them with all my heart. I am praying that we can get through this together."
PHOTO: Kristen Stewart Poses In Drag For Elle
RadarOnline.com has exclusively learned that Kristen is "filled with regret" about the cheating scandal that could rip apart both relationships after she was busted in way-more-than-friends embraces with Sanders and were snapped embracing outdoors, getting very, very close in a car and described as kissing passionately.
"Kristen regrets the whole thing," a source told RadarOnline.com. "She just did a stupid thing."
Does this mean it's over for Stewart and Pattinson?
Not so fast, says the source. "She wants to make it work. She's trying to put this in the past and move on with her life."
Five days after the shocking photos with Sanders were snapped, Stewart was with Pattinson at the Teen Choice awards, and while they were acting like nothing happened - behind the scenes major drama was playing out.
Article continues below advertisement
Stewart had become aware that she was photographed in intimate situations with Sanders and the pictures and information were going to be released in just a matter of days, RadarOnline.com learned, but her team was powerless to stop the report and publication of the photos, so she prepared herself for the worst.
On Tuesday night, a preliminary account of the affair leaked, with a sympathetic angle toward Kristen. Sources would not confirm to RadarOnline.com if the actress's team was behind the report, trying to do damage control in advance, but by Wednesday morning all the details were public.