Kristen Stewart & Director Cheating Scandal Fallout: His Wife Tweets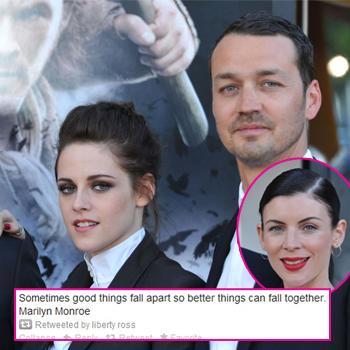 By Alexis Tereszcuk - Radar Entertainment Editor
The model wife of married director Rupert Sanders who had a fling with Kristen Stewart, sent cryptic text messages and then deleted her account Tuesday night as the news broke of her husband's infidelity.
Liberty Ross, 33, has two children with the Snow White and the Huntsman director, and even played Kristen's mom in the film, but she seemed shocked when the allegations of Kristen's fling with Rupert broke, ranting on Twitter and then deleting her account.
Article continues below advertisement
She retweeted a Marilyn Monroe quote that said: "'Sometimes good things fall apart so better things can fall together," and then quoted poet Maya Angelou, writing: "'If you find it in your heart to care for somebody else, you will have succeeded."
The stunning brunette beauty must have been blindsided by the news that her 41-year-old husband hooked up with his much younger co-star, after she spent extensive time on set with both of them.
Liberty's final Tweet before deleting her account was a succinct "WOW."
Rob Pattinson's girlfriend apparently was caught kissing the married director and the two "couldn't get enough," of each other an eyewitness told Us Weekly.
PHOTO: Kristen Stewart Poses In Drag For Elle
Rupert spoke about Kristen, 22, last month, telling E! News: "She's got a great spirit, she's really quite rebellious...and feisty and kind of wild. And that's really what I wanted the modern Snow White to have.
Article continues below advertisement
"I didn't want her to be timid and I didn't want her to be frightened and relying on men, you know. She's very strong and very driven, and I think that's true in her personal life... She's got a big weight of the world on her shoulders and she carries it incredibly well."
Rupert has already signed on to direct the sequel of Snow White and the Huntsman. That should be an interesting set!
RELATED STORIES: