Steamy Details Of Kristen Stewart Cheating On Robert Pattinson With Movie Director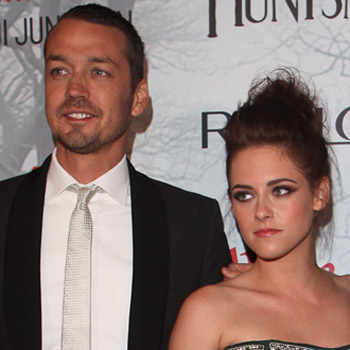 We've got brand new details about the torrid fling between Kristen Stewart and married movie director Rupert Sanders, which threatens one of young Hollywood's most glamorous relationships, the actresses' three-year romance with Twilight co-star Robert Pattinson.
A published report claims the 22-year-old actress and the 41-year-old Snow White and the Huntsman director indulged themselves as they traveled around Los Angeles July 17. Witnesses say they were hardly able to keep their hands off one another, and a series of photos confirms such, showing the director and actress in a number of romantic embraces -- or compromising positions, depending on how you look at it.
Article continues below advertisement
"He was all over her," said one photographer who witnessed the hijinks, while another said Kristen and "would only take a break from kissing when they thought someone was walking by.
"It seemed like they couldn't get enough."
One photog followed the A-list beauty from her Los Feliz home around the City of Angels, thinking it odd when she parked her swank black Mini Cooper in the lot of a deserted building, only to see Sanders pull up and passions ignite yet again.
"Kristen was sitting up with her back against the driver's-side window, and this guy was kissing her entire body," the witness said. After the director sensed they were being watched, "They left."
The pair then traveled to an area in L.A. called the Pacific View Trail, which is adjacent to the Hollywood sign. Kristen parked the car strategically, with Rupert's instructions, and the making out commenced yet again.
Article continues below advertisement
The hot and bothered duo then got out of the car, a source told US Weekly, where there was plenty more PDA to be seen, as Kristen, a witness says, "was swept up in the moment."
The two were ultra-cautious toward the end of the outing, an insider said, adding that "a few people would walk by and as soon as they heard a voice, the would split up and walk in opposite directions."
Later on, Kristen and Rupert got back in the car when some passerby dog walkers ambled through; witnesses say they spent another 20 minutes kissing, before she dropped him off three blocks away from his home. They kissed one more time, and then the Snow White and the Huntsman director walked home.
It understandable why both would like to keep this under wraps: K. Stew's relationship with Pattinson has added intrigue and buzz to her career, while Sanders, 41, is married to British Vogue beauty Liberty Ross, 33. The couple have two kids, ages 7 and 5.
Pattinson, 26, and the enigmatic beauty skyrocketed to fame playing Edward and Bella in the pop culture sensation Twilight.
The Twilight Saga: Breaking Dawn - Part 2 hits theaters November 16.