Ego Alert! Kristen Stewart Shows Up To Wedding In Jeans!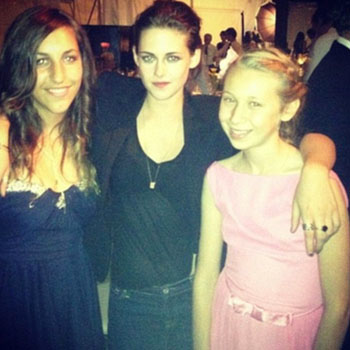 She may be a blockbusting movie icon, but as we all know, when it comes to a wedding… the bride really should be the ONLY star.
So when Kristen Stewart, 22, showed up to a friend's big day in a black tank top, blazer and a pair of skinny jeans, she made the cardinal sin.
Not only did she draw attention to herself (and away from the bride), but she also managed to do it while looking like she couldn't care less about the occasion.
Article continues below advertisement
The Snow White and the Huntsmen star is, of course, well known for her abhorrence of a pretty frock, and will only stay in a gown for as long as she needs to at a premiere.
PHOTO: Kristen Stewart Poses In Drag For Elle
So even when Kristen, who commands $34.5 million per movie, was loaned a navy Zac Posen cocktail dress by the groom's sister, she couldn't bring herself to stay in it for longer than an hour, according to witnesses.