Charlize Theron: Kristen Stewart Is 'A Child, Doesn't Give A F**k'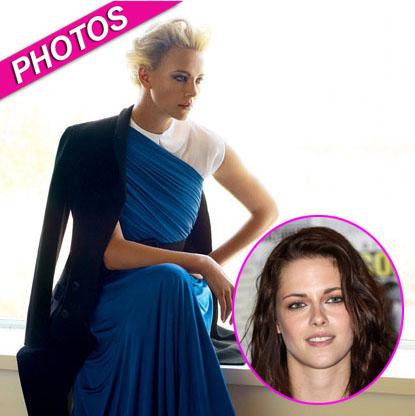 Charlize Theron, who plays the Evil Queen in the upcoming flick Snow White and the Huntsman, dishes on the real life character of her 21-year-old costar Kristen Stewart in the December issue of Vogue magazine, revealing that Stewart "doesn't give a f**k" – and RadarOnline.com has the details.
"She just turned 21. She's a child," Theron says of Stewart, comparing her own rise to superstardom at the same age with the release of The Devil's Advocate.
Article continues below advertisement
"And Kristen is just living this to the max and still has a sense of humor about it," she continues. "There's this really lovely quality about her that just doesn't give a f**k. A lot of people say they don't, but then they go home and cry and pop a Xanax. Kristen actually doesn't give a f**k. That's
what's so refreshing about her."
Though Charlize admires Stewart as an actress, it seems like all personal matters are set aside when it comes to their onscreen relationship!