Kim Zolciak Wedding Drama, Mom Has Meltdown At Kroy Biermann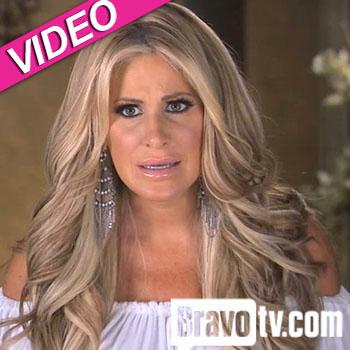 Wedding stress brings out the worst in people, and that is especially true for Kim Zolciak's family who get in a heated war of words on her big day.
In a sneak peak from the latest episode of her spin-off show, Don't Be Tardy For The Wedding, Kim's mom, Karen, takes the drama to new levels when she threatens to burn down the house if she's not allowed in to use the bathroom.
Article continues below advertisement
"We're going to draw the line in the sand right now," says the outspoken Southern belle, who refuses to let her sister pee in a porta potty.
The siblings march up to the security guard at the house where Kim's Aunt Leslie tells him, "I would hate to violent with you but seriously, this is her mother."
Karen then demands he "get out of the way... If I have to bring down the house, it's going to happen!"
Still dressed in her wedding gown and veil, newlywed Kim is dragged back to put out the flames. "There's a gorgeous $5,000 porta potty outside that we paid for," she tells her NFL star husband Kroy Biermann.
The sparks don't stop flying there, as when the Atlanta Falcons player tries to put his mother-in-law in her place by telling her that there are no exceptions to the bathroom rule, Karen tells him: "You know what, Kroy, f**k you!"