Vicki Gunvalson On Daughter's Secret Wedding: 'I Was So Confused And Sad'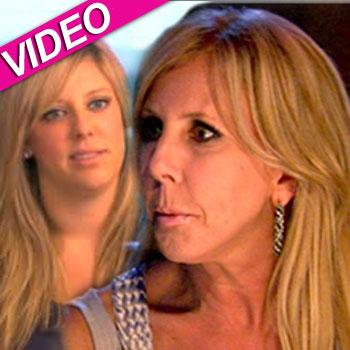 Real Housewives of Orange County star Vicki Gunvalson is a woman that likes to be control, and in charge. So you can imagine her utter horror when she discovered her daughter, Briana had gotten secretly married!
Briana eloped with her military boyfriend, Ryan, to Las Vegas last October, but Vicki is finally opening up, on her Bravo blog about her pain and shock at discovering her daughter had married behind her back.
Article continues below advertisement
"When she told me she and Ryan had got married in Vegas I felt like I was in a dream. . .or more like a nightmare," she says. "I had only met Ryan one time before and that was before he went on duty. All the while he was on this tour I didn't even know that they were serious or even for that matter 'in love.' She told me she was nervous about putting both feet into their relationship because she didn't want to be crushed if anything happened to him while he was away. I left the restaurant after the 'bomb' was dropped on me, went to my car, and broke down in uncontrollable tears. The tears lasted for more than a week. In my idle or quiet time. . .I would cry. In my busy time I found myself crying. It was all the time because I was so confused and sad."
Vicki goes on to try and justify her daughter's actions, wondering if her recent health scare had anything to do with it. As RadarOnline.com previously reported, Briana had to undergo thyroid surgery last year after a cancer scare. Thankfully, she was given the all clear shortly afterwards.
"This is not typical of Briana in any way, shape, or form, and I was worried that she may have just been vulnerable due to the health issues she had been dealing with for the past two years. I didn't tell any of my family members or my friends because I didn't even know how to begin to discuss it, and, quite frankly, I was embarrassed," Vicki writes. " All of my dreams for my only daughter's BIG DAY were taken away from me in an instant (and for that matter taken away from HER. More importantly, the family had not met him or his family. I knew very little about Ryan and now I had an instant son-in-law."
Article continues below advertisement
Vicki then explains how she has now comes to terms with Brian's elopement, and how she may have actually manifested the whole situation herself, through her prayers to God.
"After a lot of prayer and soul searching I was able to look at the big picture and not be angry anymore. What's interesting is that when I asked God to completely heal Briana while she was in surgery, I also asked for her to be happy and to one day be in love again (as I knew she was worried about that). I had no idea that two weeks later God would answer those prayers with her getting married and not to have cancer. My new motto is: Be careful what you wish for.