Vicki Gunvalson Attacks Slade Smiley At 80s Themed Party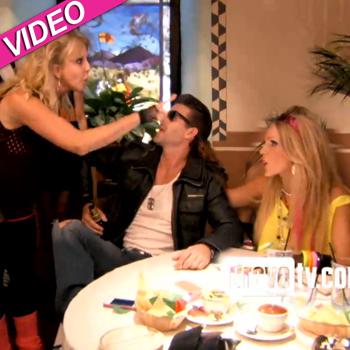 By Debbie Emery - RadarOnline.com Reporter
There was plenty of hairspray, florescent make-up, boob tubes and legwarmers to go around when the Real Housewives of Orange County got together for an 80s themed party, and RadarOnline.com has a sneak peak of the retro bash that turned into a modern day blow up!
Donned in their best Jane Fonda and Cyndi Lauper inspired outfits, the women were having a great time until a knock on the door announced new arrivals, and instead of "80s strippers" like one of the cast speculated, the door opened up to their other halves, including Slade Smiley – dressed as Billy Ray Cyrus, Heather Dubrow's husband Terry and Eddie Judge, Tamra Barney's fiancé.
Article continues below advertisement
"He looked like such a douche bag," laughed Tamra, whose divorce settlement from Simon Barney was revealed by RadarOnline.com this week. "I am so glad I didn't date you during the 80s."
Heather agreed that her hubby's new look was also not a winner. "The 80s were not the best looking time. Terry looked hideous, I am very, very happy the 80s are over."
Unfortunately Vicki Gunvalson was still steaming over Slade's raucous stand up comedy routine in which he compared her to Miss Piggy, so she was far from pleased to see him, even in a mullet wig.
"When I saw Slade I was shocked, I thought, 'Really? Tamra, we just got ridiculed in front of 300 people and now you're inviting him to a social function,'" said the unhappy Housewife.
Tamra tipped Slade off that Ricky and Vicki were upset, and of course, he couldn't keep quiet about it!
"Ricky, are you all p***ed off about my improv?" he shouted across the room. "I didn't like the improv," came the curt reply.
Article continues below advertisement