Tamra Barney Plots To Kill Slade Smiley With Kindness After He Calls Her 'Michelin Man'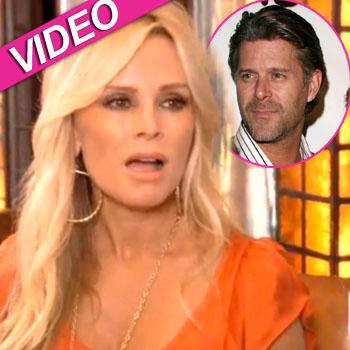 Article continues below advertisement
But goes on to share that she wasn't so impressed by Slade's performance, claiming he talked about Vicki Gunvalson and held up a picture of Miss Piggy and then talked about Tamra and held up a picture of the Michelin Man.
Shocked, Tamra takes it in her stride and rails against Slade.
"Did he joke about how he doesn't pay child support?" she quips.
"I don't care," Tamra reasons. "If he wants to call me fat he can call me fat all day long. I'd rather be called fat than a parent that does not take care of my child."
Article continues below advertisement
In very un-Housewives fashion, Heather and Tamra hatch a plan that Tamra won't fight with him anymore but will instead be friendly to him.
"I've tried everything else, why not kill him with kindness?" She asks.
Do you think Slade will accept Tamra's kindness? Find out on The Real Housewives of Orange County Tuesdays at 9/8c on Bravo.
RELATED STORIES:
Real Housewife Tamra Barney Slams Vicki Gunvalson, Calls Her 'A Hypocrite'