New Real Housewife Heather Dubrow's Plastic Surgeon Husband Sued By Former Patients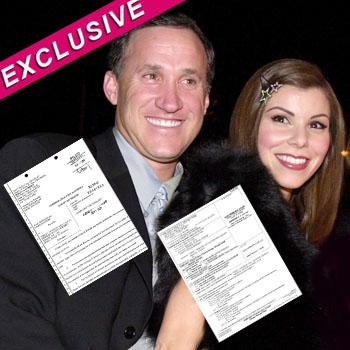 By Jen Heger - RadarOnline.com Legal Editor
The Real Housewives of Orange County has a new cast member, Heather Dubrow, who is married to plastic surgeon Dr. Terry Dubrow, and he has been sued by at least two former patients, RadarOnline.com is exclusively reporting.
The gorgeous brunette reveals in a video on the Bravo website that she has been married to Dr. Dubrow for 12 1/2 years, and the couple has four children together, all under the age of eight.
Article continues below advertisement
EXCLUSIVE DOCUMENTS: New Real Housewife Heather Dubrow's Plastic Surgeon Hubby Sued
In court documents, obtained exclusively by RadarOnline.com, Leah Goodman filed a personal injury lawsuit against Dr. Dubrow, and the Newport Heights Medical Center.
Goodman filed the lawsuit against the plastic surgeon on March 4, 2011, and is seeking at least $25,000 in damages. Goodman is alleging medical malpractice, and general negligence. She is seeking unspecified damages.
A year earlier, June and Mark Hofherr filed a lawsuit against Dr. Dubrow and the Newport Bluffs Surgery Center for general damages, after June suffered complications from an unspecified procedure that the doc performed on her.
The court docs state: "Defendants failed to disclose material risks of the procedure to the plaintiff and thereby failed to fully describe the procedures that were proposed and/or exceeded the scope of the disclosure and thereby failed to obtain informed consent from the plaintiff for said course of care, treatment and/or surgery. Had plaintiff been adequately informed of all the risks of the procedure, plaintiff would not have consented to said procedure."
Article continues below advertisement
Mark Hofherr says that because of the surgery: "June Hofherr has been unable to perform the duties of a spouse and the work and services usually performed in the care, maintenance and management of the family home, June Hofherr will be unable to perform such work, services and duties in the future."
The Real Housewives of Orange County season seven premieres on February 7, 2012.
RELATED STORIES: