Gretchen Rossi Goes Off On RHOC Co-Star Vicki Gunvalson: 'She's A Hypocrite!'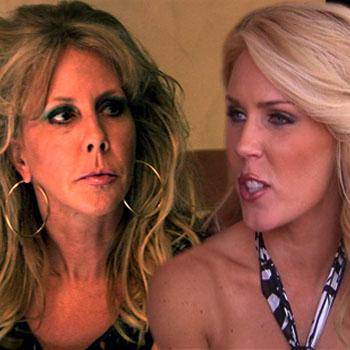 Article continues below advertisement
"Ironic thing is Vicki literally says in this episode 'everyone falls behind sometimes?' Well if that is the case then why would she automatically claim that Slade is a deadbeat father but that didn't apply to her boyfriend?"
Gretchen goes on to defend Slade, noting that he's always made some sort of child support payment — except when the economy tanked, his lower income could no longer support the payments required from when he had a substantially larger income.
Article continues below advertisement
"Bottom line Vicki's rules apply to everyone but herself. She is what you call a hypocrite… I have noticed that whenever Vicki is going through a hard time we are all suppose to stop and feel sorry for her, but low and behold if anyone else is dealing with a sick child (Slade) or a sick fiancé (me) or something difficult, it doesn't seem to matter to her or what she says about them," Gretchen said.
Article continues below advertisement
"What is it with these women that they think just because I haven't popped out a kid between my own two legs, I have no clue what it is like to be concerned about a child? Last time I checked Slade's son has been sick for close to seven years now, and I have now had to embrace that fight with him for the last three," she noted.
"For her to say 'I have no clue what it is like to have a sick child' made me crazy and almost want to jump across the table at her!!! Yes Slade's youngest son, who is terminally ill, is not my biological child, but by any means that does not make it less painful, sad, or hard for me."
But in the end, Gretchen extended an olive branch, expressing sympathy for Vicki and her daughter.
"Obviously it was very sad to see Vicki having to take her daughter into surgery not knowing what the outcome was going to be. That is the worst feeling in the world that I do not wish that upon anyone," Gretchen said.
"I empathize with what Vicki was going through with her daughter even though I don't have any children of my own, because no matter whom it is, if it is someone you love it is scary and painful. I was in the room with the doctor when Jeff was diagnosed with cancer, I was his full time caretaker administering meds, taking care of his pick line, and sitting by his hospital bed on a daily basis for nine months, and I had him die in my arms. NO ONE can tell me I have no idea what it is like."