Exclusive
Real Housewives Of Orange County's Slade Smiley Still Jobless And $130k In Debt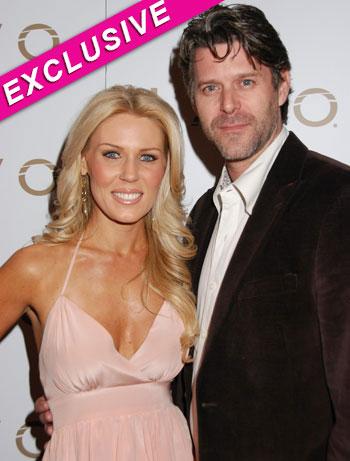 Even though he's squawking about having found a job, The Real Housewives of Orange County star Gretchen Rossi's boyfriend has yet to find employment and pay his bills, including child support for his cancer-stricken son.
Listen! 'RHOP' star Wendy Osefo breaks down the "most intense fight in the show's history" in under 2 minutes.
According to court documents obtained by RadarOnline.com, Rossi's man Slade Smiley owes a whopping $138,857.64 in unpaid child support.
Article continues below advertisement
Grayson, his child with an ex-galpal, has brain cancer and medical bills are piling up.
But despite Slade telling his concerned mom on Sunday's show that he's working, he yet has to fulfill a judge's order that he find steady work!
Rossi took to the web this morning to defend her man.
"I see Slade everyday working hard to try and find a good paying job so he can once again meet his obligations and continue to pay for Grayson's medical expenses," Rossi wrote on her blog.
"He submits resumes consistently to companies and has worked with head hunters, etc. Just because a man can no longer pay $4,000 a month in support due to loss of a job and financial hardship does not make him a deadbeat father."
According to the court documents, Smiley claims that his monthly income in 2010 was $416 a month, and in 2009 had no income. Smiley is seeking to have his monthly child support payments to Arroyo reduced from $3500 because he no longer earns the big bucks working in real estate.
Article continues below advertisement
"It appears he is currently living with his girlfriend," the court papers read. "The evidence shows that . . . in 2010 he earned $5,000 for participation in another television program. (Smiley) testified regarding his various unsuccessful efforts to find work in the title insurance/real estate industry. He also testified regarding his various Facebook and Twitter entries showing his attendance at various public and social events. He essentially describes these activities as networking with the purpose of securing employment in the entertainment field."
MORE ON:
Celebrity Justice
The judge ordered Smiley "to expand his efforts beyond entertainment and title insurance/real estate, and to document his efforts by keeping a detailed log." He's also mandated to contact at least five potential employers every two weeks.
On Sunday's show, Slade also told his mom that he was a consultant for Rossi's handbag and make-up products. Gretchen's version of the consulting: Smiley curled her hair for a television appearance.
Article continues below advertisement
Court documents also show that son Grayson's medical bills not covered by insurance now exceed $1 million.
Smiley didn't return a call for comment.
It's the second time in the last week that that RadarOnline.com has reported about the an OC Housewife star going through a financial nightmare. Peggy Tanous, the show's newest addition, is fighting three banks trying to foreclose on her family's $1.3 million-home.