Real Housewives Star's Home In Foreclosure; She Sues The Banks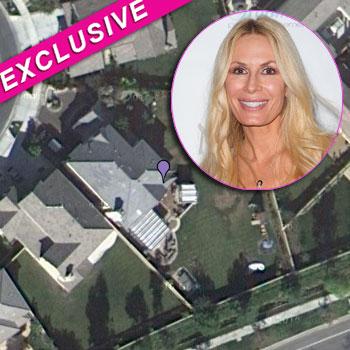 &
RadarOnline.com Staff Reporter
A real housewife without a house?
It could happen to Peggy Tanous, one of the stars of Bravo's The Real Housewives of Orange County!
Read The Document: Peggy Tanous Lawsuit
Former model Tanous is in a dogfight with three banks to keep her $1.3 million-home in Irvine, Calif., out of foreclosure, RadarOnline.com has learned.
While BAC Home Loans Servicing, U.S. Bank National and PNC Mortgage are trying to kick her and her family out and sell the house, Tanous has struck back with a lawsuit.
Article continues below advertisement
She claims the banks didn't honor a loan modification agreement!
The 41-year-old Tanous and husband Micah, an internet entrepreneur, made timely payments for about two years after buying the place in 2006.
But, like millions of Americans, the Tanouses began experiencing financial trouble, according to her lawsuit. Their monthly checks on not just one, but two loans, because few and far between. They have one mortgage for $1 million, and a second for $312,540, according to records.
They also quit paying Orange County property taxes. The couple, however, negotiated a payment plan that they're abiding by.
In her lawsuit, Tanous claims she made similar arrangements the banks. She hammered out a deal to pay interests only for 10 years – but was shocked in November when the banks still filed a foreclosure notice!
"(Tanous) is determined to keep the property," the lawsuit reads. "It is her family's home, and she does not want to lose the Property in a foreclosure sale."
Article continues below advertisement
The stay-at-home mom of two little girls wants a judge to prevent the foreclosure sale.
Her home is in Irvine, California.
Last sold for $1,379,000 on 2/17/2006
Last assessed at $875,000 on 2009
Previous assessments:
$875,000 on 2009
$1,136,000 on 2008
$1,377,000 on 2007
On the show's current season, Tanous' first, Tanous got breast surgery so that she could "look damn good in a bathing suit." She's also described on the show's website as "a wealthy Orange County party girl."