Exclusive
EXCLUSIVE INTERVIEW & PHOTOS: OC Housewife Tamra Barney Tells Radar: Marriage Is Definitely In Our Future!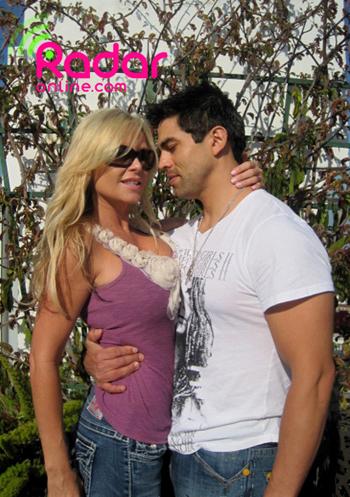 Wedding bells could be ringing soon for Tamra Barney and her new boyfriend.
Speaking exclusively to RadarOnline.com, the Real Housewives of Orange County star said she and Eddie Judge, her boyfriend of more than a year, are planning to say 'I Do' and have even discussed adopting a child together!
"We've talked about marriage and we want to get married," gushed 42-year-old Tamra, who shared the couple's private photo album with us.
Article continues below advertisement
"It's an insane amount of love; I have never said term 'soul mate' before, but we are!
"We finish each other's sentences... I'm not the easiest person in the world and he gets me, nor does he judge. He simply says, 'that's my girl.'"
It has been a tumultuous few years for the reality television mother-of-four after a very public divorce from husband of 11 years, Simon Barney, who also featured on the hit Bravo show.
Tamra insisted Eddie, 37, was never friends with Simon, as her ex had claimed.
"He put that out there when Eddie and I started dating," Tamra said of Simon, who has also moved on with a new girlfriend.
"We had gone to holiday parties about two years ago where Simon and Eddie briefly met, but they never had a friendship and no numbers were exchanged.
"So the extent of their relationship amounted only to meeting socially maybe three times.
Article continues below advertisement
"Simon has even admitted to me that he was sorry and at the time he was p*ssed off."
Tamra said she has slowly started to introduce her children — Ryan, Sidney, Spencer and Sophia — to new beau Eddie, in anticipation of walking down the aisle together.
"Within the next year we'll be married," Tamra told RadarOnline.com, in an exclusive interview.
"It's all about timing right now and the kids play a huge part.
"If it weren't for the kids, we'd be married right now... but we're happy as can be; it's happily ever after!"
"Eddie is one of the best things that's ever happened in my life; he's understanding, he's caring and he just really has a big heart."
She said Eddie reveals on an upcoming episode he'd also like to add one more child to Tamra's brood.
"Eddie is adopted and said he'd even like to adopt," she said.