Exclusive
EXCLUSIVE: Tamra Barney & Jeana Keough Brawl At 'Real Housewives' Party!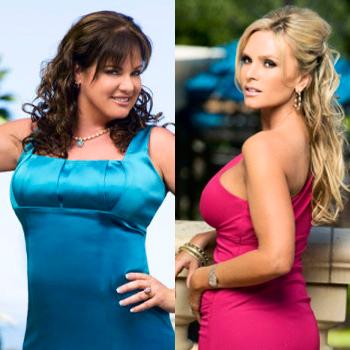 A wild brawl broke out at the wrap party for the Real Housewives of Orange County on Saturday night, with Tamra Barney and Jeana Keough throwing wine at each other and the encounter turning physical, eyewitnesses told RadarOnline.com exclusively.
Tamra, furious that Jeana has been giving interviews about her – interviews she has told people are wildly inaccurate – had her lawyer write a cease and desist letter to Jeana. When Tamra attempted to give the letter to Jeana at the party, the situation turned physical, RadarOnline.com learned exclusively from eyewitnesses.
Article continues below advertisement
"It was crazy," one eyewitness told RadarOnline.com. "It looked more like an out-of-control bar scene than a party!"
Tamra and Jeana began arguing at the party, which was held at Vicky Gunvalson's house, with Tamra confronting Jeana over the objectionable interview, according to someone who saw and heard the exchange.
"Jeana wasn't budging and finally Tamra said, 'here's a cease and desist letter from my attorney,'" the eyewitness told RadarOnline.com.
Jeana refused to accept the letter and cursed Tamra and turned the argument into a physical one.
EXCLUSIVE PHOTOS of Tamra and Husband In Happier Times
"Jeana said to Tamra, 'Youre' a b*tch and I'm gonna throw you're a** in the pool,'" the eyewitness told us. "Then she pushed Tamra, as if she was trying to throw her in the pool." Tamra started to fall backward, and fell into someone behind her.
Still on her feet, Tamra responded by throwing a glass of wine in Jeana's face!
Article continues below advertisement
The eyewitness told RadarOnline.com that Tamra then walked away and as she did Jeana tried to throw HER wine at Tamra. But Jeana missed Tamra and her wine hit another woman – who was wearing white and furious after being splattered.
That woman then stormed Jeana, grabbed her and pushed her up against a wall!
LINGERIE PHOTOS of Housewife Gretchen Rossi
It was a wild, wild brawl and Bravo's cameras were running the entire time. Tamra left the party shortly after and encountered Jeana and a male friend in the driveway. Jeana's friend then took a wine glass and threw it at Tamra's feet, with glass shattering and flying everywhere.
"If the cameras caught half of what happened Saturday night it's going to be the craziest episode of Real Housewives anyone has ever seen," the eyewitness told RadarOnline.com.
On Sunday, Jeana's daughter Kara's twitter featured some back-and-forth about the wild event, but had no details other than a claim Tamra had thrown a glass of wine at Kara's mother.
Article continues below advertisement