Kim Zolciak Has Naked Chest Painted With Fiance's Football Jersey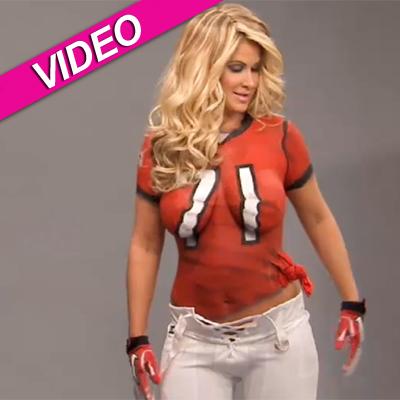 On Thursday's edition of Don't Be Tardy For The Wedding, bride-to-be Kim Zolciak regaled her footballer fiance Kroy Biermann with a sexy set of shots picturing her in body paint in the style of his Atlanta Falcons jersey.
During the shoot, the 34-year-old Southern belle, who carved out her celebrity as one of The Real Housewives of Atlanta, said she wants the pics to "incorporate Kroy's jersey and have it painted on my body.
Article continues below advertisement
"To me that is sexy," Kim said, noting the sports-inspired shoot was better than shots of her in "tacky lingerie."
Later on, Kim complained of the paint applied to her person, asking "How do I get this sh*t off my skin?"
The show chronicles Kim's march to the altar (they sealed the deal on November 11, 2011) and on Thursday, we also got to see the raspy-voiced Kim go through the usual hustle-and-bustle synonymous with wedding preparation.
In another scene, she complained about the size of a tent they were planning to use, implying it was way too small.
"I want a tent that people can f*cking dance under," Kim groused, "not one I am getting married under!"
Kim admitted wedding plans were getting in the way of her modeling Mojo.
"I am finding it a little hard being sexy with all this stress going on with the wedding," Kim said. "I was so excited to do this photo shoot for Kroy, but with all this wedding stuff, the photo shoot is the last thing on my mind … but I am looking so damn sexy!"
Article continues below advertisement
Kelsey Grammer Gets His Wife's Name Tattooed On His Hip
Taylor Armstrong 'Freaked Out' By Bravo Phasing Her Out Of Real Housewives Of Beverly Hills