Watch Kim Zolciak Become An Actual Housewife!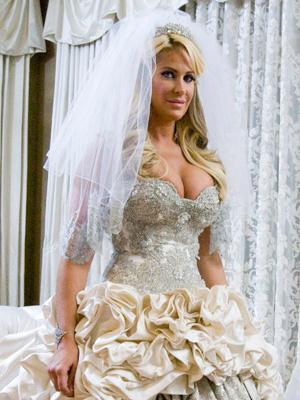 Viewers were by her side when Kim Zolciak met husband-to-be Kroy Biermann at a charity event, approaching the Atlanta Falcons star to tell him, as only she could, that he had the nicest ass she'd ever seen. So it's only appropriate that cameras follow Kim as she plans her nuptials on Don't Be Tardy for the Wedding. But Kim has just seven weeks if she wants to get hitched on her lucky day, 11/11/11. "It was so stressful," Kim tells Star, "but at the end of the day, it was exciting."
Article continues below advertisement
As far as high-maintenance brides go, Kim just might take the three-tiered cake. Only five months after having son KJ, she's determined to lose the rest of her baby weight — even if it means cosmetic surgery. And there are a few other expenses: $58,000 for a gown (one of three she wears at the wedding), $50,000 for Kroy's ring and whatever it costs to hire security to keep guests from snooping around her house.
The good news is that Kim has event planner Colin Cowie to help. The bad news is he thinks this party could cost a million bucks.
Kim's football-playing fiancé has a season ticket to the action — including when the blushing bride chews out her mother and the matron of honor — but that doesn't mean Kroy has any say. (See the time he makes the mistake of recommending that they get married in a wheat field back home in Montana.)
To add to the stress, this is all happening in the middle of the NFL season. "The poor guy — I was pulling him in a million different directions," Kim admits. "He actually had to practice the day we got married. He didn't get home until a couple hours before the ceremony."
Still, Kroy is in this for keeps. In fact, Kim is already five months pregnant with their second child!