Kim Zolciak Wigs Out On Don't Be Tardy For The Wedding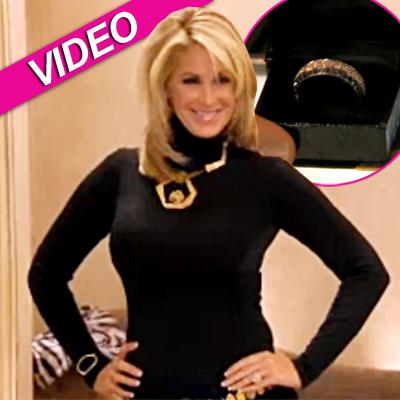 On Thursday's edition of Don't Be Tardy For The Wedding, bride-to-be Kim Zolciak gave us a glance at the ring she bought for her footballer fiancee Kroy Biermann -- and a rare look at what she looks like sans her trademark wig!
"My wigs have definitely just become a part of who I am," The Real Housewives of Atlanta star said. "I'm not sure I want to change something up so drastic on my wedding day ... I don't want it to be about my hair."
Article continues below advertisement
Kim's real hair didn't seem too drastically different than her wigs, though its worth noting the camera picked up a few grey strands in 34-year-old Southern belle's normally-blonde coif.
Kardashians Snub Step-Brother's Hawaiian Wedding!
"I know I have grey hair b*tch, but I love wigs and I look great in them," she said, adding that "Kroy's seen me topless in every sense of the word."
As for the ring, Kim was beyond happy how lavish and large the ring -- which cost her more than $56,000 -- turned out.