Exclusive
Hugh Hefner's Ex Crystal Harris Moves Back Into The Playboy Mansion!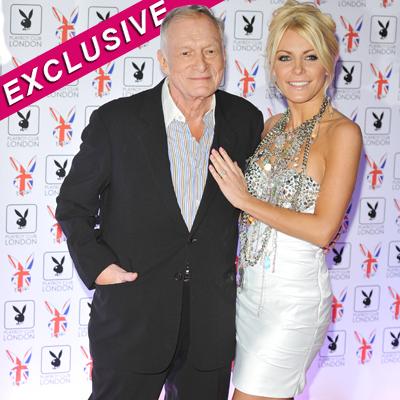 Radar Entertainment Editor
Hugh Hefner has let his ex-fiancee Crystal Harris move back into the Playboy Mansion, RadarOnline.com has exclusively learned!
After being unceremoniously dumped just a week before his wedding by Crystal, who snuck out of the Playboy Mansion and fled into the arms of another man, Hef has forgiven her and welcomed her home with open arms.
"Crystal begged Hef to let her come back," a source exclusively told RadarOnline.com. "He surprisingly doesn't have any hard feelings against her, so he let her move back into the Mansion."
Article continues below advertisement
The blonde bombshell, who graced the cover of Playboy in July 2011, the same month she was a runaway bride, moved back into the Mansion this week and while Hef is happy to have her back, it caused major turmoil for his current girlfriend.
"Shera Berchard, Hef's #1 girlfriend, moved out as soon as Crystal moved back in," the source said.
"Hef and Crystal are really happy back together," the source said.