ON YOUR RADAR: The Biggest Breakups Of The Year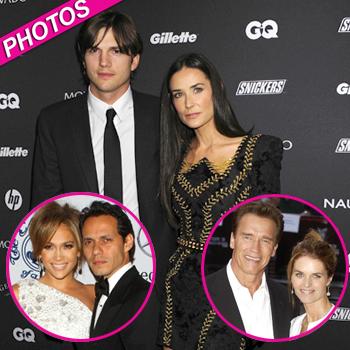 By Debbie Emery - RadarOnline.com Reporter
Hollywood will have its fair share of lonely hearts this Christmas after countless couples went their separate ways during 2011. RadarOnline.com reveals the celebrities who have gone through bad breakups and are in need of a helping hand from Cupid and his arrow before Valentine's Day comes around.
CBS Evening News anchor Katie Couric doesn't often find her name in the tabloids but her split from longtime boyfriend Brooks Perlin after five years earlier in December took everyone by surprise. Couric, 54, reportedly initiated the breakup with her 37-year-old beau, and is already looking for a new love!
Article continues below advertisement
Article continues below advertisement
Arnold Schwarzenegger and Maria Shriver's breakup after 25 years of marriage became one of the biggest stories of the year in every way when a joint investigation by Star magazine and RadarOnline.com revealed in May that he had fathered a love child, who is now 14, with his housekeeper, Mildred Baena. Maria filed for divorce on July 1, and the former California governor, who is worth roughly around $500-750 million dollars, reportedly is agreeing to a generous settlement.
Article continues below advertisement
Many thought that New York Yankees star Derek Jeter and Minka Kelly's relationship was a home run to the altar but the couple struck out in August and called it quits. 2011 didn't get any better for the former Friday Night Light's star when her new project, Charlie's Angels, became the second network show of the year to be canceled.
They say once a cheater, always a cheater - and Jesse James certainly supports the theory! After his marriage to Sandra Bullock exploded, the Monster Garage star got engaged to tattoo artist Kat Von D. Despite sharing a passion for getting inked, the couple split up in a similar spectacular fashion when Kat announced on Facebook that he had been cheating on her too. In a lengthy Facebook blog titled "Thank You, Jesse James," Von D revealed that her relationship with Jesse was "toxic" and that she "encountered" the 19th woman he'd cheated on her with during their relationship.