Exclusive
Arnold Schwarzenegger To Give Maria Shriver 'Generous Settlement,' Says Source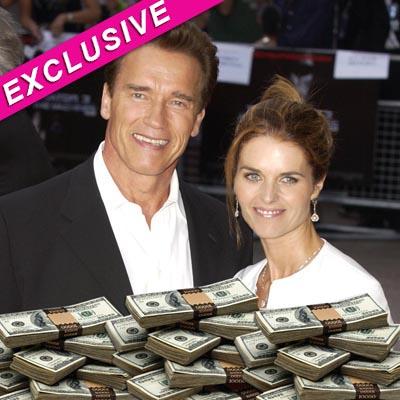 By Jen Heger - RadarOnline.com Legal Editor
Arnold Schwarzenegger is willing to give Maria Shriver a "very generous divorce settlement," much more than is required under California law, RadarOnline.com has exclusively learned.
Maria formally filed for divorce from the former California governor on Friday, July 1, but settlement talks between their respective lawyers have been ongoing for more than two months.
California is a Community Property state, so all assets accumulated during a marriage are split 50/50. However, Schwarzenegger is now seriously considering giving Maria more than that, we're told.
Article continues below advertisement
The Terminator is worth roughly around $500-750 million dollars, a source close to the situation tells RadarOnline.com.
"Arnold realizes he is to blame for the collapse of his marriage. Maria was a loving wife and mother, and he doesn't think that any amount of money can minimize what he has put her through. He wants to do the right thing, and go above and beyond what is required of him under the law.
"This is going to be a very amicable divorce, and it won't be played out in the media. Neither one of them wants that. Arnold hasn't lost his mind, he is going to be giving away his fortune to her. He wants to show his children that he is taking responsibility for his actions," the insider revealed.
Shriver's lawyer Laura Wasser and Schwarzenegger's lawyer Bob Kaufman will have a private judge handle the divorce proceedings. "Laura and Bob always have a private judge handle their high profile clients. This keeps details from leaking out, and things getting nasty," the insider says. "Once a settlement has been agreed upon, one of the lawyers will formally go to court and tell the presiding judge that an agreement has been made."
Article continues below advertisement
Wasser and Kaufman work very well together, and have already made a lot of progress in the settlement talks, our source reveals.
Arnold will formally file his response to Maria's divorce petition -- as required by California law -- in the next two weeks.
"Arnold will be requesting joint custody of their sons, just as Maria stated on her filing. Maria wants Arnold to continue to be a big part of Patrick and Christopher's lives," the source says.