Exclusive
Ashton Kutcher & Sara Leal's Booze Fueled Party Night: All The Details!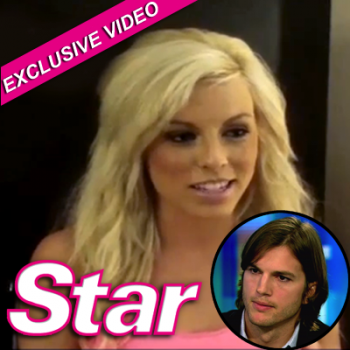 Senior RadarOnline.com Reporter
With babes, booze and a hot tub, Ashton Kutcher's wild night of partying in San Diego was everything you would expect from a Hollywood heavyweight -- and more!
To get all the juicy details of Ashton's steamy, sexy night on the town, Star magazine exclusively spoke with an eyewitness from the party where Ashton ended up hooking up with Sara Leal and destroying his marriage.
Article continues below advertisement
"Ashton and Sara definitely boned," Megan McNutt exclusively told Star about the affair that broke up the superstar's marriage. "They definitely hooked up, there was definitely sex involved."
The booze fueled night at the Hard Rock Hotel started off with Megan having her phone taken away when she entered the party suite.
"It was really fun," Megan said about the night. "It was a typical San Diego thing just with Ashton Kutcher who is super hot and super fun."
And, according to Megan, the Two and a Half Men star certainly wasn't keeping it a secret that he and his superstar wife Demi Moore were on the outs: "When I heard he was separated, I definitely thought he was acting like a guy who was single. He was mingling…doing his thing."
Megan said she could tell that things were going to get hot and heavy between Ashton and Sara, straight away.
"I felt Ashton and Sara were going to hook up because everyone was drunk. It was a good time. Drinks were flowing. Everyone was partying. There was music. There was a hot tub. If there's a hot tub involved, there is going to be some action. And Sarah is a hot girl," Megan said. "She's a nice girl and she's very good looking, I'm sure he saw her and said, 'damn, that girl's hot.'"
Article continues below advertisement
Ashton Kutcher's Alleged Hook-Up Is A 'Party Girl Who Knows What She Wants,' Says Pal
Megan said she and Sara knew each other before the party night, that the 23-year-old blonde bombshell is "super sweet" and they've had wild party times in Vegas as well.
Check out the video of Sara's friend Megan revealing never before told secrets from the night Ashton cheated on Demi and for more details about their separation and divorce pick up the latest issue of Star Magazine on newsstands now.