Exclusive
WORLD EXCLUSIVE: Mother Of Arnold Schwarzenegger's Love Child Revealed!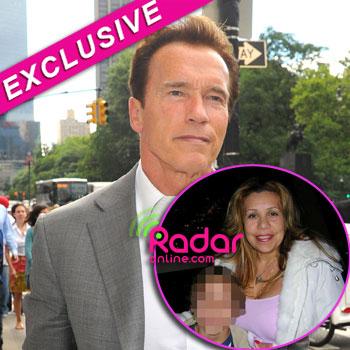 by RadarOnline.com Staff
Mildred Baena is the mother of Arnold Schwarzenegger's love child, RadarOnline.com and Star magazine have learned exclusively in a joint investigation.
Baena, 50, worked as a housekeeper for Arnold, RadarOnline.com and Star have learned.
Baena and Schwarzenegger, 63, conceived their illegitimate child more than a decade ago, behind the back of the Hollywood superstar's wife and Kennedy heiress, Maria Shriver. That child is now 14-years-old.
Article continues below advertisement
"She's the one," one source told RadarOnline.com.
A second source confirmed: "They have a son together."
The staff member worked for the Schwarzenegger-Shriver family for 20 years, before she retired in January, according to a source who knows Baena intimately.
In a statement that shocked the world, Schwarzenegger confirmed one of the most scandalous political and personal cover ups ever, confirming the child was born before he began his seven-year stint as governor.
RadarOnline.com has decided not to identify Schwarzenegger's love child at this time and has obscured the young man's face in this photo of him and his mother.
"I understand and deserve the feelings of anger and disappointment among my friends and family," Schwarzenegger said on Tuesday.
"There are no excuses and I take full responsibility for the hurt I have caused. I have apologized to Maria, my children and my family. I am truly sorry."
Article continues below advertisement
The former California First Lady Maria Shriver called the admission "heartbreaking."
"This is a painful and heartbreaking time," Shriver said in a statement.
"As a mother my concern is for the children. I ask for compassion, respect and privacy as my children and I try to rebuild our lives and heal. I will have no further comment."
Despite Schwarzenegger's wealth being said to be over $800 million, this website has learned that Baena — who has previously been married — is not well off.