Exclusive
Lawyer: DNA Test Performed On Son Of Woman Linked To Arnold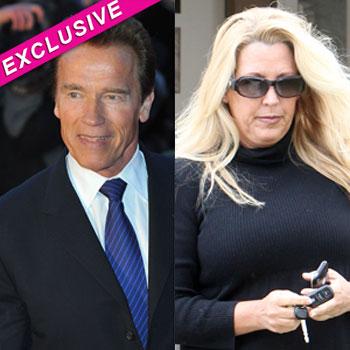 A woman who worked for Arnold Schwarzenegger and was rumored in published reports to be the mother of his out-of-wedlock son had a paternity test performed on her son to disprove those allegations, her lawyer tells RadarOnline.com exclusively.
Tammy Tousignant, a former flight attendant who worked for Arnold, was romantically linked to him in published reports but has always strongly denied a romance and that the actor is the father of her child.
Article continues below advertisement
Her name resurfaced Tuesday after Arnold made his bombshell admission that he fathered a child with a former employee and hid it from his wife, Maria Shriver.
Now, Tammy's attorney Thomas E. Anthony tells RadarOnline.com exclusively that a paternity test was conducted and Arnold was not the biological father of her child. Tammy has two sons. Anthony did not specify which son was the subject of the paternity test.
Anthony told RadarOnline.com: "I will confirm the following: the Tousignant child was no 'love child' involving anyone other than the parents of the child, Tammy and her husband, Tom Tousignant. Arnold Schwarzenegger was not the biological father of the Tousignant child. All scientific tests confirmed that Mr. Tousignant was the biological father of the child.
"Regarding the other issues, I suggest you contact Mrs. Tousignant in person to discuss what she knew and what she may have observed regarding Mr. Schwarzenegger.
MORE ON:
Arnold Schwarzenegger
Article continues below advertisement
"From what I remember, Mrs. Tousignant had nothing but the highest regards for Maria and Arnold as a couple. But as to Arnold, you would need to discuss those issues with Tammy."
When RadarOnline.com sought comment in person from Tammy at her house, a friend answered the door and said Tammy is not doing any interviews and will not answer questions. The friend said Tammy is not involved in the Arnold paternity scandal.
The friend refused to comment when asked about the paternity test and would not answer when asked directly if Tammy ever had a romantic relationship with Arnie. The friend repeatedly said "no comment."
Anthony was Tammy's attorney when the love child reports first surfaced in 2003.
RELATED STORIES:
VIDEO: Arnold Schwarzenegger Speaks Publicly About Split