Arnold Schwarzenegger Named In Civil Lawsuit Over Freed Killer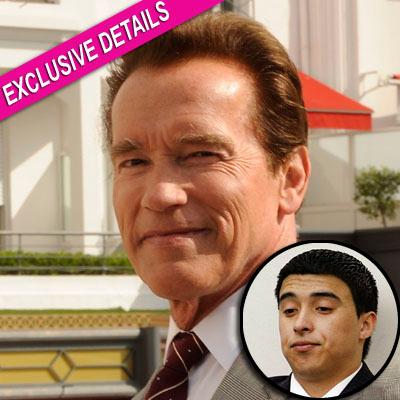 It's been a bad week for embattled former governor of California Arnold Schwarzenegger.
First, it was announced that he and his wife of 25 years, Maria Shriver, were separated. Now, Schwarzenegger has been named in civil lawsuit in connection with his controversial decision to commute the prison sentence of political ally's son who plead guilty to voluntary manslaughter and assault with a deadly weapon.
Article continues below advertisement
The day before the Governator's last day in office, he reduced the prison sentence of Esteban Nunez, son of former California Assembly Speaker Fabio Nunez, to seven years in prison from 16 years.
In 2010, Esteban Nunez pleaded guilty to the charges after an assault near San Diego State University that left Luis Santos dead from stab wounds and three other victims injured.
Now, Bonnie Dumanis, District Attorney of San Diego County where the crime took place, filed the civl lawsuit in which she is asking the court to overturn Schwarzenegger's reduction of Esteban's sentence, claiming he didn't notify the victim's family in violation of California state law.
The lawsuit says that the former Governor was constitutionally obligated to notify the crime victims of his intentions then give them the opportunity to be heard.
"Historically, the Governor was entrusted with this power in order to represent the conscience of the community and to insure against miscarriages of justice. Instead, this last minute commutation made without all of the facts or input from the parties, only fueled the public's mistrust of government and greatly diminished justice," Dumanis said in a statement.
MORE ON:
Arnold Schwarzenegger
Article continues below advertisement
The reduction of Nunez's sentence sparked a huge outcry in California.
Schwarzenegger has been hounded by the media for an explanation and told a Los Angeles television station when asked about it: "Don't ask me the same question again, 'cause otherwise you're boring the hell out of me."Schwarzenegger then made a snoring sound to the reporter.
RELATED STORIES: