PHOTOS: A-List Family & Friends Bid Farewell To Sargent Shriver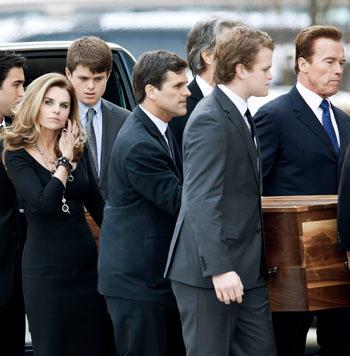 Maria Shriver and Arnold Schwarzenegger were among the pallbearers. Vanessa Williams and Wyclef Jean sang. Former President Bill Clinton and Bono praised his work for the poor. They all came together Saturday for the funeral of Sargent Shriver, RadarOnline.com is reporting.
Robert Sargent Shriver died Tuesday at age 95. He'd suffered from Alzheimer's disease which is daughter Maria turned into her personal cause both as a TV journalist and California's First Lady.
Article continues below advertisement
America's First Lady Michelle Obama also attended the touching and emotional service. She was spotted with Shriver's niece Caroline Kennedy as they left Our Lady of Mercy church in Potomac, MD.
Joan Rivers Calls Michelle Obama 'Blackie O'
Shriver founded the Peace Corps and headed the War on Poverty during the 1960s, working under his brother-in-law President John Kennedy and his successor Lyndon Johnson. He was instrumental in the formation of the Job Corps and Head Start. He championed the Special Olympics which was founded by his late wife Eunice Kennedy. He also unsuccessfully ran for Vice President
Bill Clinton awarded Shriver the Presidential Medal of Freedom for his lifetime of work to better the lives of the poor and disadvantaged.
But today daughter Maria Shriver could only think of him as "Daddy" who she said was "in heaven with God and with Mummy."
Following the funeral, Shriver's casket was transported to Hyannis, Mass., where he was laid to rest by Eunice who died in 2009.
RELATED STORIES: