Joan Rivers Calls Michelle Obama 'Blackie O'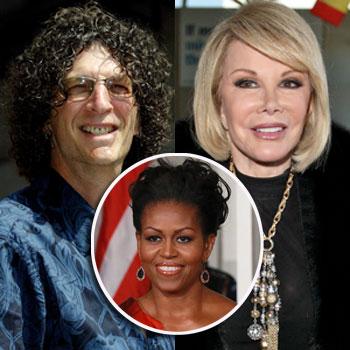 Comedienne Joan Rivers revealed she once ditched a joke about First Lady Michelle Obama from her stand-up routine - because she feared she'd be accused of racism.
Recalling the wisecrack to shock Jock Howard Stern, the comedy legend said: "We used to have Jackie O now we have Blackie O!"
The audio can be heard here on RadarOnline.com.
Rivers wrote the quip about President Barack Obama's wife in reference to her fashionable dress sense and comparing her to former First Lady Jackie Kennedy Onassis.
Article continues below advertisement
"I thought it was a funny complimentary joke when she first came (to the White House)," the 77-year-old comedienne told Stern.
"I think it's an adorable joke... I thought it was a compliment!"
VIDEO: Howard Stern Slams Jay Leno: 'He's Insane And A Crook'
In the interview, Stern and his sidekick Robyn Quivers laughed yet questioned whether Rivers' joke was racially-motivated.
"Where's the compliment in that? I'm looking and looking, I'm trying to find it," Quivers asked Joan.
Joan Rivers On Howard Stern