Joan Rivers In Pretend Twitter War With Lindsay Lohan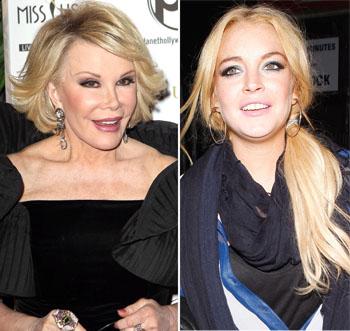 Even though Lindsay Lohan is in UCLA for rehab without much access to the outside world, she seems to have been able to get in touch with her biggest fan, Joan Rivers. The two women can't seem to get enough of each other and have been Twittering non-stop. Just kidding!
Joan has been on a Twitter frenzy lately, writing pretend conversations with Lindsay – referring to herself as "J-Ro" and signing the Tweets from Lindsay, who she refers to as "Lilo."
Article continues below advertisement
Starting on August 3rd, the day after Lindsay entered UCLA for a court appointed 90 day rehab stint; Joan began posting her spoof communications with the troubled starlet.
"Dear Joan: I just entered rehab 8 hours ago and I'm so excited! This is the longest I've ever been drug free!!! Love, Lindsay"
Joan has been posting her joke Tweets from Lindsay for the last two weeks, interspersed with plugs for her new movie, Joan Rivers: A Piece of Work.
"J-Ro: Plan to be outta here soon. Gonna shop, party and sleep in my own bed…as soon as I get this last bar off the window. Xo LL," Joan Rivers Tweeted on August 15th.
Today, Joan Tweeted, "J-Ro!!! I am so proud of myself. My doctors say there is nothing they can do for me, which means I'm perfect!!! xoxo LiLo" and then continued with another zinger against Lindsay and her father Michael Lohan a few hours later.
Article continues below advertisement
"J-Ro: For the last 3 days my roommate has lied, cursed, farted and been vile to me & everyone else. It really made me miss my dad! Xoxo Lilo."
Earlier in the summer Lindsay's ex-girlfriend Samantha Ronson slammed Rivers over her Tweets. "Hey Joan Rivers - you have collagen older than Lindsay, pick on someone your own age, oh wait, I guess people that old can't hear. #bully"
As RadarOnline.com exclusively reported, Lindsay Lohan may be released before serving her full 90 days in rehab.