Exclusive
EXCLUSIVE INTERVIEW: Michael Lohan Says Lindsay Will Relapse Upon Rehab Release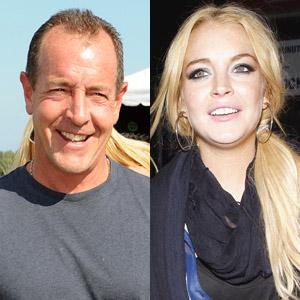 Dina Lohan's appearance on The Today Show on Friday sparked immediate reaction from those who have been following her troubled daughter's road from jail to rehab.
In an exclusive interview with RadarOnline.com, Dina's ex-husband, Michael Lohan, said he disagrees with his daughter getting out of rehab early and he believes it will only lead to a relapse.
"Why does Dina want Lindsay to get out early? That's just sick. What parent would want that?" Lohan told RadarOnline.com. "I think she was very disrespectful to Matt Lauer. She didn't answer one of his questions directly. The one thing she did get right was the line where she told him 'nothing has changed.' And you know what? She's right. Nothing has changed."
Article continues below advertisement
Michael said Dina needs to stop giving advice and start paying attention to their daughter's needs.
"It's Dina who needs to start surrounding herself with the right people," he said. "My prediction is that Lindsay will get out of rehab early, probably still be on some kind of prescription drugs, she'll go right back to work and go back to hanging out with the same people and everything will once again fall apart. And this will only have been a band aid."
On Friday, Dina told Matt Lauer that Lindsay has only been to rehab twice. But as RadarOnline.com reported, Lindsay has actually been to rehab four times including the treatment she's receiving now at UCLA.
The District Attorney confirmed with RadarOnline.com that with a new judge in place on Lindsay's case, the actress will most likely NOT have to complete her full 90 days in treatment.
Dina brushed off questions about Michael's involvement in Lindsay's and the rest of their children's lives, saying he has no contact with them. But Michael told RadarOnline.com that simply isn't true.
Article continues below advertisement
"What was she talking about? She's been a single mom for 15 years? We were only divorced five years ago!" Lohan said. "She was my best friend on the Fourth of July this year. She says I don't see my kids? I saw my son Cody three weeks ago and my oldest son Michael works for me."
Michael continued, "Lindsay needs family therapy with Dina and me...something that has been recommended by professionals for years but Dina won't do it. It's all about money and controlling Lindsay and the kids. Dina and I caused this and WE need to fix it as parents."