EXCLUSIVE: Sorry Dina, Matt's Right - Lindsay Really Was In Rehab FOUR Times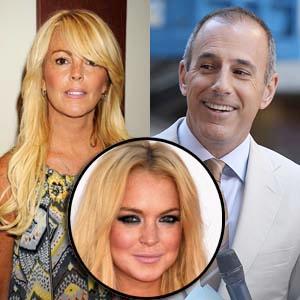 Lindsay Lohan's mother Dina Lohan insisted in her defensive interview with The Today's Show's Matt Lauer on Friday that her famous daughter had only been in rehab TWICE in recent years.
But, RadarOnline.com can reveal that Lindsay has been in treatment facilities FOUR TIMES since 2007, and that Dina was not telling the truth about this - or maybe it just slipped her mind.
During the interview, Lauer told the controversial mom that he understood that her daughter had been in rehab on four separate occasions, but Dina was adamant that it was only twice.
Article continues below advertisement
But Lauer and his research team were in fact correct, and RadarOnline.com has the timeline to prove it:
In January 2007, Lindsay checked into Los Angeles Wonderland Center for a 30 day stay. She released a statement at the time which read: "I have made a proactive decision to take care of my professional health. I appreciate your well wishes and ask that you please respect my privacy at this time."
In June 2007, Lindsay entered Promises Treatment Center in Malibu for six weeks. Her rep at the time Leslie Sloan's statement read, "On Friday, July 13, 2007, Lindsay Lohan successfully completed her 45 days of residential and extended care treatment at Promises."
In August 2007, the Mean Girls star checked into Cirque Lodge Treatment Center in Utah for another six week program. After she left the facility on October 5, 2010, Dina told People Magazine: "I'm proud of her. She's moving ahead with her life. Things were getting out of control. She took action. She took responsibility. She really needed to heal."
Then on August 2 of this year, Lindsay Lohan entered UCLA's Resnick Neuro Psychiatric Hospital in Westwood, Los Angeles, for what is supposed to be a 90 day stay.
Article continues below advertisement
Lauer double checked his facts, and later on Friday's Today Show, he confronted Dina during a second live interview with her. Dina responded by implying that she didn't count the two of the stints because they were "not court-ordered."
"When it's court ordered, it's not your judgment call -- it's the court's," Dina told Lauer in the second segment. "So, she is back. She is doing wonderfully there. The judge was recused from the case. She was the one that ordered this last one ... because of a legal situation, she may actually get out of rehab earlier at this time.
During her first interview on the Today Show Friday, Dina defended both her daughter and her own parenting skills, while attacking Los Angeles Judge Marsha Revel who sentenced Lindsay to 90 days in jail and 90 days in rehab this summer for violations of her probation related to her 2007 DUI conviction.
Judge Revel has subsequently been removed from her daughter's case, but Dina remained adamant that she had tried to be a good parent to both Lindsay and her three other children and would continue to do so.
Article continues below advertisement
She told Lauer that she believed that her daughter's problems were magnified by the media and blown out of all proportion.
She said: "I think that's all propaganda, I think a lot of it is pre-orchestrated -- you're reading things that are not based on fact.
"She's still paying the price from 2007 until now... she was 19 then, she's 24 now -- she's grown up considerably."
"Lindsay's under a microscope, and she doesn't really realize she does have people watching her, media watching her -- she cant even go to Starbucks without 12 people following her."
Although Dina's parenting skills are questionable for many observers, one fact is not in doubt – Lindsay Lohan has been in rehab FOUR times and not TWICE as stated by her infamous mom.