Exclusive
VIDEO: Dina Blames Lindsay's Judge; Says She'll Be Out Of Rehab "Soon"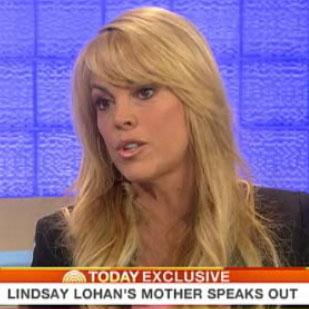 Lindsay Lohan's mother Dina sat down with The Today Show's Matt Lauer Friday for a no-holds-barred interview in which she criticized the judge that sent her daughter to jail, and said Lindsay will be out of rehab "soon", despite being sentenced to 90 days in treatment.
Watch the clip on RadarOnline.com
Dina, 47, made no secret of her contempt for Los Angeles Judge Marsha Revel, who sentenced Lindsay to 90 days in jail and 90 days in rehab this summer for violations connected to a 2007 DUI conviction.
Article continues below advertisement
"I think she went overboard and played serious hardball with Lindsay... and put her in serious lockdown for two weeks," Dina told Lauer. "Its a really serious offense for a judge, she went against the district attorney... she's fired, basically."
As for Lindsay's stay at Lynwood California's Century Regional Detention Center, Dina said Lindsay got no special treatment, and is doing "great" since getting out.
"She's been through a lot," Dina said. "Lindsay was in with alleged murderers and she's become friends with a lot of them... she's rolling with the punches and she's doing wonderful."
As for Lindsay's wild child image frequently seen on the blogs and tabloids?
"I think that's all propaganda, I think a lot of it is pre-orchestrated -- you're reading things that are not based on fact," Dina said, adding that Lindsay's only been in rehab twice, contradicting Lauer's claim she'd been in there four times. "She's still paying the price from 2007 until now... she was 19 then, she's 24 now -- she's grown up considerably."
Article continues below advertisement
Lindsay's "under a microscope, and she doesn't really realize she does have people watching her, media watching her -- she cant even go to Starbucks without 12 people following her."
Lauer indirectly asked Dina if she's a stage mom, more concerned with her daughter's stardom than her health and well-being.
"I don't know what a stage mom is," Dina said. "I was in this business before my kids were born."
Dina also said to expect a cross-county move for the Mean Girls star once her rehab is completed.
"She'll be coming back to New York," she said. "Los Angeles is ... a little it's different there -- it's a different game."
Stay with RadarOnline.com for more Lindsay Lohan news as it breaks.
Visit msnbc.com for breaking news, world news, and news about the economy