Exclusive
EXCLUSIVE INTERVIEW: Lindsay Lohan "Got Special Treatment" Says Former Jail Inmate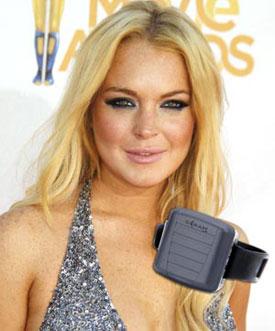 Lindsay Lohan spent 13 days in jail, but was hardly treated like a typical inmate says a woman who was at Lynwood Correctional Facility during Lohan's stay.
"Lindsay had a lot of special treatment while she was in jail," Katie A. told RadarOnline.com exclusively. "The entire jail was put on lockdown any time Lindsay left her cell. It felt like we were constantly on lockdown.
Katie asked that we not use her last name. RadarOnline.com confirmed she was in jail with Lindsay.
Article continues below advertisement
"She spent a lot of time in her cell, but she also went to the medical clinic several times a day."
In addition to having the jail cleared while she was on the move, Katie says Lohan also got a brand new jail uniform everyday, while other inmates just got a clean pair once a week – if they were lucky.
"One employee of the jail had to spend his day searching the entire place for any books by Ernest Hemmingway for Lindsay," Katie tells RadarOnline.com. "Those are the only books she would read."
RadarOnline.com reported exclusively that Lindsay was reading the Old Man & The Sea when she went into jail but the book was taken away. We also reported she was able to get books while in jail.
Katie also says Lohan was granted her commissary order when she arrived to the jail on Tuesday, July 20 even though all orders are supposed to be placed by Monday night in order to receive them.
"I checked into Lynwood on the same Tuesday as Lindsay and had to wait until the next week for my commissary order to be placed," Katie says. "But Lindsay got hers.
Article continues below advertisement
"I was sentenced to 30 days because of a violation of my probation for not attending an alcohol education class," Katie says. "The same thing as Lindsay.
"Lindsay served 13 days out of her 90 day sentence whereas I had to serve 20 days for a much lesser sentence."
As RadarOnline.com previously reported, Lohan's mother Dina said while at Lynwood she was NOT getting special treatment and "she doesn't even have a pillow to sleep on."
"Lindsay got off easy in more ways than one," Katie says. "But she didn't look good. The whole jail joked about how good she looked in her mug shot compared to in person."
Lohan is currently undergoing her 90-day treatment at UCLA Medical Center in Los Angeles for substance abuse, ordered by Judge Marsha Revel as part of her sentence for Lindsay violating the terms of her probation from a 2007 DUI conviction.