VIDEO: President Obama's 'Superfluous' Slip-Of-The-Tongue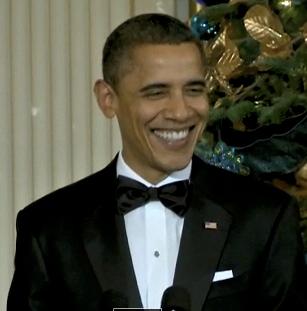 If the stuttering economy wasn't enough to deal with, the normally eloquent President Barack Obama had problems saying the word 'superfluous' during a speech on Sunday because of his busted-up mouth.
Watch the video on RadarOnline.com
The President recently had to get stitches in his lip after he was accidentally elbowed in the face during a basketball pick-up game the day after Thanksgiving.
A star-studded crowd including Oprah Winfrey, Julia Roberts, Sidney Poitier and Sir Paul McCartney all attended this year's Kennedy Center honorees at the White House and listened to the President fluff the word.
Article continues below advertisement
"It's this lip. It's hard to say," Obama said to chuckles from the audience. "You try it when you've had 12 stitches."
President Obama was reading an opinion from legendary Supreme Court Justice Oliver Wendell Holmes.
"To many people, the superfluous is necessary," Holmes wrote. "The theater is necessary. Dance is necessary. Song is necessary. The arts are necessary. They are a necessary part of our lives."
VIDEO: President Barack Obama Says 'I Don't Think About Sarah Palin'
Despite his problems, the star-studded audience warmly applauded the stuttering President at the event when he finally managed to pronounce the tricky word.
This year's Kennedy Center honorees include country-and-western singer-songwriter Merle Haggard; ex-Beatle Sir Paul McCartney; veteran Broadway composer Jerry Herman; dancer and choreographer Bill T. Jones; and television host and actress Oprah Winfrey.