PHOTOS: Oprah Winfrey & Paul McCartney Among Stars Celebrated At Kennedy Center Honors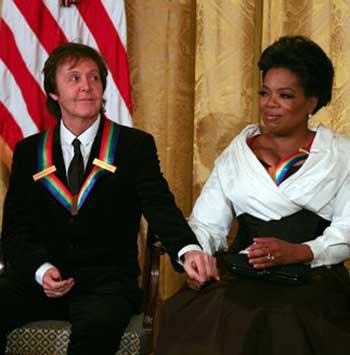 Hollywood came to Washington, DC this weekend.
The 33rd annual Kennedy Center Honors were held Sunday night, and Oprah Winfrey and Paul McCartney were among the stars honored for their life-time of contributions to the arts.
The other honorees included country singer Merle Haggard, legendary Broadway composer Jerry Herman, and dancer/choreographer Bill T. Jones.
President Barack Obama thanked the honorees at the black-tie event for giving "the extraordinary gift of the arts."
Article continues below advertisement
According to a pool report, one highlight of the evening was a duet of Haggard's hit song Today I Started Loving You, performed by Sheryl Crow and Willie Nelson.
Tributes to McCartney included Gwen Stefani and her band No Doubt performing several Beatles hits: Hello Goodbye, All My Lovin' and Penny Lane.
30 Rock star Alec Baldwin surprised McCartney with a spoof VH-1 style retrospective of the "years of anonymity McCartney suffered with the Beatles," noted a pool report.
More Beatles covers were performed by new American Idol judge Steven Tyler, Norah Jones and Dave Grohl, while other musical performances came from Glee star Matthew Morrison and 89-year-old Tony Award winner Carol Channing.
VIDEO: Oprah Gives Away Biggest Cruise On Farewell Favorite Things Episode
According to the Washington Post, while an extended sing-along of the Beatles' classic Hey Jude carried on through "all 19 'Na na naah' lines," the entire crowd, including Mr. and Mrs. Obama leapt to their feet.
Article continues below advertisement
Caroline Kennedy opened the program, and Julia Roberts, Barbara Walters, John Travolta and Sidney Poitier were among those singing Winfrey's praises.
Roberts, the first star to appear on stage, admitted that she was nervous to speak in front of hundreds of people, including the president.
Poitier, a 1995 Kennedy Center honoree, called Winfrey "what a social network should be."
A who's who of politicians attended the event, and among the stars spotted in the audience: Diana Ross; Sam Waterston; Mary-Louise Parker; Lynda Carter; Forest Whitaker; Florence Henderson; Smoky Robinson; James Taylor; and actor John Lithgow.
The Kennedy Center Honors were taped and will be broadcast on CBS on Tuesday, December 28.
At a reception earlier in the East Room of the White House, President Obama said that the honorees possessed "a staggering amount of talent." But, he added, that was not the sole reason they had been chosen.
EXCLUSIVE: Oprah Winfrey's Australian Trip Could Be Grounded By Qantas Airplane Malfunction
"They're being honored for their unique ability to bring us closer together and to capture something larger about who we are, not just as Americans, but as human beings," the president said.
Article continues below advertisement
"Each of these honorees help us understand the human experience -- to illuminate our past, to help us understand our present, and to give us the courage to face our future," said Obama.
While Mr. Obama spoke of each honoree's accomplishments, he used only a single sentence to sum up his take on the reigning queen of daytime talk, "Michelle and I love Oprah," he said.
Winfrey appeared visibly moved by Sunday's recognition.