NEW DETAILS: Inside Oprah's Trip Down Under - Police Escorts, Wild Horses & High Security Hotels!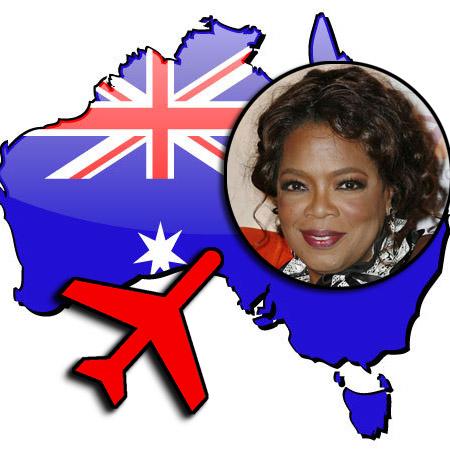 It's been branded one of Australia's most tightly guarded secrets, but RadarOnline.com has new details about Oprah Winfrey's Outback adventure set to cost more than $3 million. The talk show queen is flying 300 members of her audience to Australia next month for what promises to be a television extravaganza.
VIDEO: Oprah Gives Away Biggest Cruise On Farewell Favorite Things Episode
Winfrey will shoot two episodes of her show at the world famous Sydney Opera House (now being dubbed "Oprah House" in honor of the talk show host) in December with a third taking place at the secret Outback location.
Article continues below advertisement
Dozens of production crews and cattle station workers have been filming at Mt. Mulligan, a sacred site for Aborigines, capturing footage of life in the rugged terrain.
Numerous cattlemen and women have been spotted mustering wild horses at breakneck speeds as well as chasing and capturing wild bulls.
"We had nine men round up 19 wild brumbies and race them up the airstrip for the helicopter shots but the horses just smashed through the fence and kept going," one stockman told The Courier Mail. "We never saw them again."
And while the episodes are sure to boost the country's tourism, Winfrey's presence in Australia is also set to increase security.
VIDEO: Oprah Winfrey & Whoopi Goldberg Patch Up Long-Time Silence
According to the Daily Telegraph, Winfrey will be treated like a foreign dignitary during her visit to Sydney and will be allowed a government security detail. As well as being appointed personal protection, she will also have police escorts.
Article continues below advertisement
"The New South Wales Police Force and Government agencies are working closely to ensure the visit and associated events take place without incident," said a spokeswoman for Police Minister Michael Daley.
"While there is a range of security arrangements in place during the visit, there will be sufficient numbers of police to cover a range of contingencies."
Oprah Sending Entire Studio Audience To Australia; John Travolta To Fly The Plane!
However, confusion remains as to where she will stay with contrasting reports spreading like wildfire.
Some say she will check in at a high security hotel, such as the Intercontinental or the Shangri-La, while others insist she will live with a regular Australian family.
"She wants to immerse herself in the Aussie culture and she thinks the best way to do that is live with a family and sit down to dinner with them by the barbecue, play a bit of backyard cricket and experience their lifestyle," a source told one local newspaper.
Article continues below advertisement
The Sydney show - the first of Oprah's daytime show to be filmed outside North America - will also feature thousands of local fans.
Australians are so excited by the arrival of the talk show queen that some restaurants are planning Oprah nights.
Keith Urban and Nicole Kidman are confirmed guests with a slew of other Australian A-listers expected to appear.
Winfrey will arrive next week to tape the shows which will air as part of her final season.